Joined

Aug 20, 2021
Messages

97
Likes

86
Points

0
Location
Hey all. Pandemic reefer chiming in! I've been around here for a few months and wanted to share my personal reefing journey. I've only really been interested in aquariums since Jan 2021 when I set up my wife's desktop freshwater 5g nano. After that I was hooked and almost jumped in to getting my own freshwater tank...until I discovered the salty side. My own personal reef won me over pretty quick and before long I had ordered a tank!
I set up this Waterbox Marine X 35.1 Cube (22g DT, 11g sump) in July 2021. I've had quite a few ups and downs throughout its young life. I'll try to document the trials and struggles chronologically below.
Specs
Rock: 40lb Caribsea Liferock (Marine X 35.1 bundle from Waterbox)
Sand: Caribsea Special Grade
Powerhead: AI Nero 3 (x2)
Heater: 100W BRS Titanium Heater w/ Inkbird temp checker
Lights: Radion XR15 G5 w/ diffuser as of mid-Dec 2021 (Started with AI Prime 16HD with Flex Arm and 3D printed diffuser)
ATO: XP Aqua Duetto
Return Pump: Sicce Syncra Silent 2.0
Lid: Kraken Reef Lid
Skimmer: Nyos 120
Salt: Tropic Marin Pro
RODI: 6 Stage BRS System
Timeline and Events
July 9, 2021.
Tank is all set up. Dumped in some fritz turbo start and powder ammonia.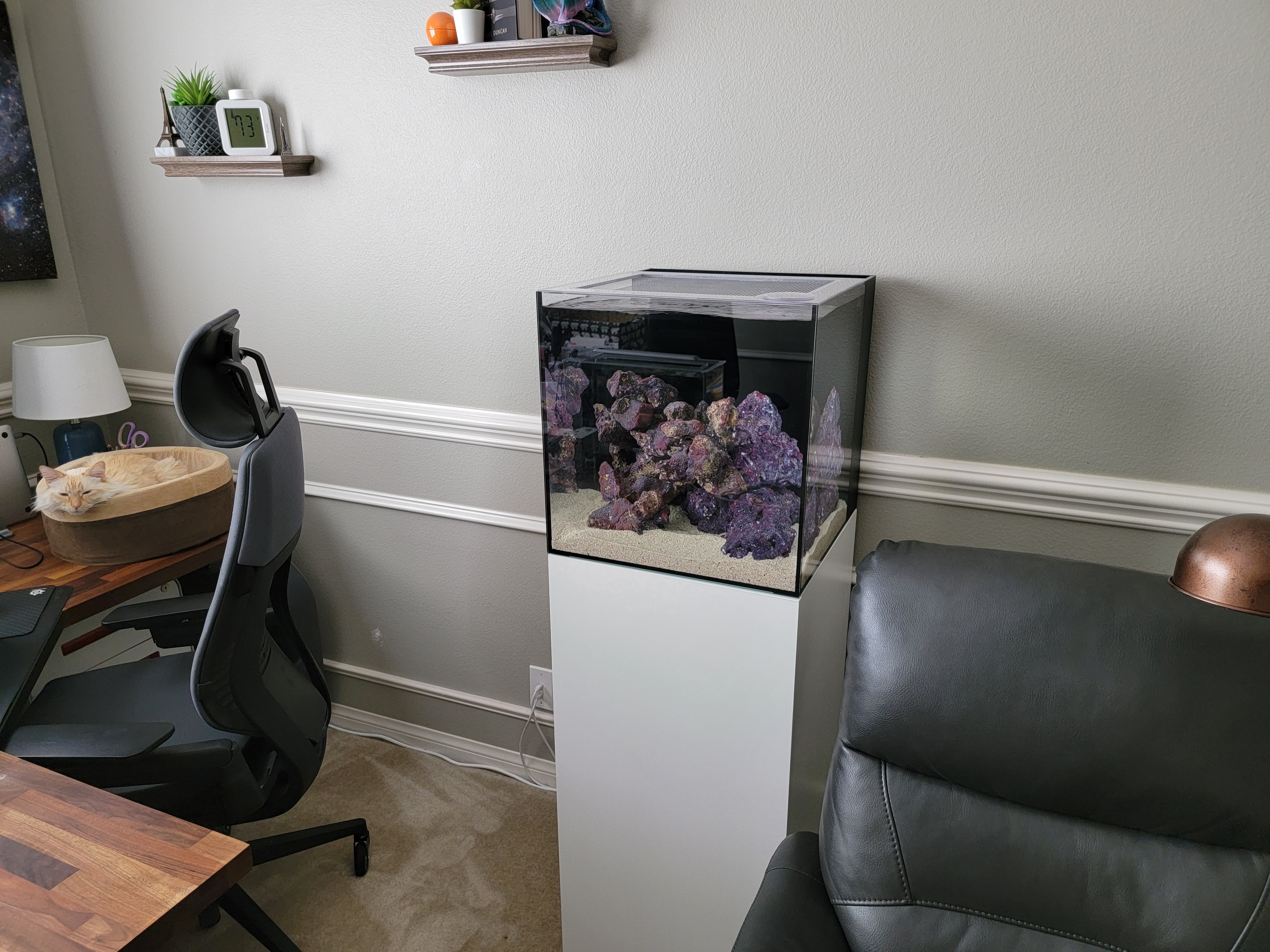 July 16, 2021
Added 2 clownfish and a few tester coral (zoa + GSP.) A few invertebrates (astrea snails, nassarius snails.) Spoiler: I kill the GSP later due to stupidly A) super gluing part of the wrong side (lol), and B) dipping in hydrogen peroxide trying to clean off a spec of algae. Much regret and lesson learned.
View attachment 96833
July 22, 2021
I pick up a few more coral. Also yes, that's a ball of chaeto sitting in the display. I get rid of it eventually. Gets everywhere.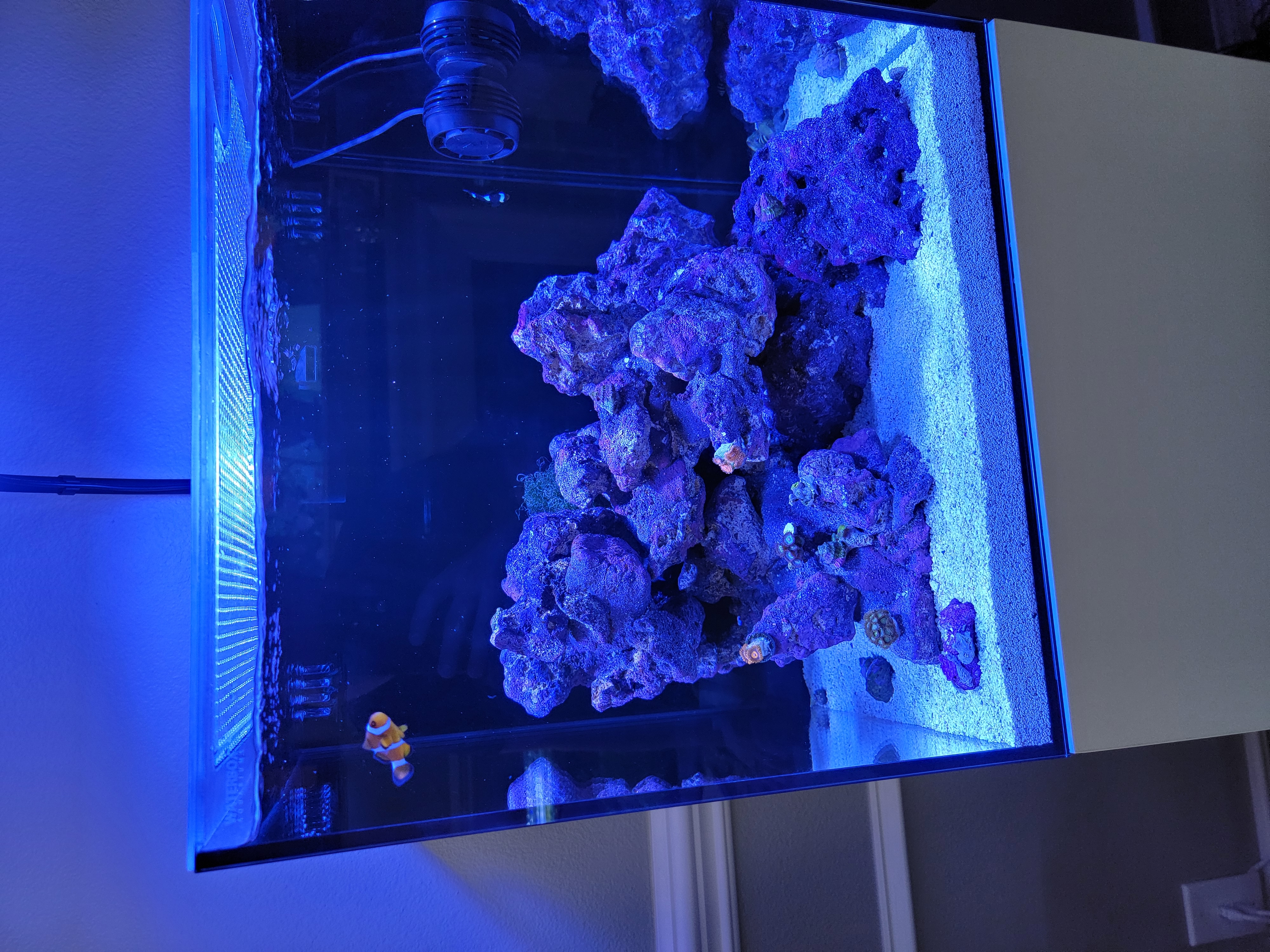 July 31, 2021
Things are going pretty well. Things are noticeably happy and growing. So I get a few more coral. Why not?!
At this point I've noticed for a week or so white stringy poop on one clown and then next week the other. It doesn't go away, changing fish food (frozen/dry variety) doesn't seem to help. I decide to use Fritz Paracleanse in a quarantine tank. 5 days later, they're stringy poop free and back in the display.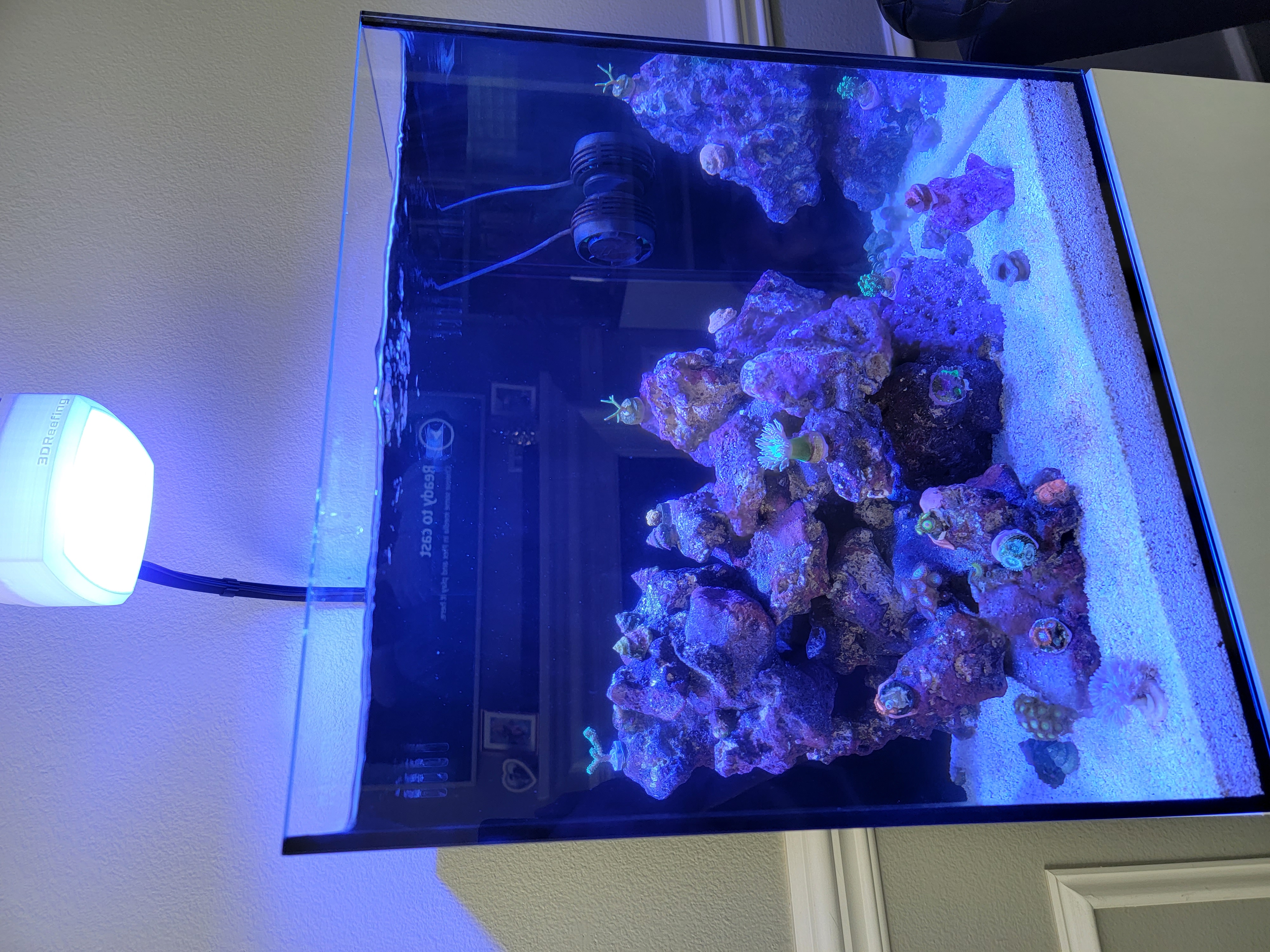 August 12, 2021
Things are going fantastic. Some diatoms on the sand, but nothing my CUC isn't taking care of easily. Everything is so well I decide to take a chance with a rainbow bubble tip anemone that a reefer over at R2R was giving away locally for free. Hard to turn down free sometimes.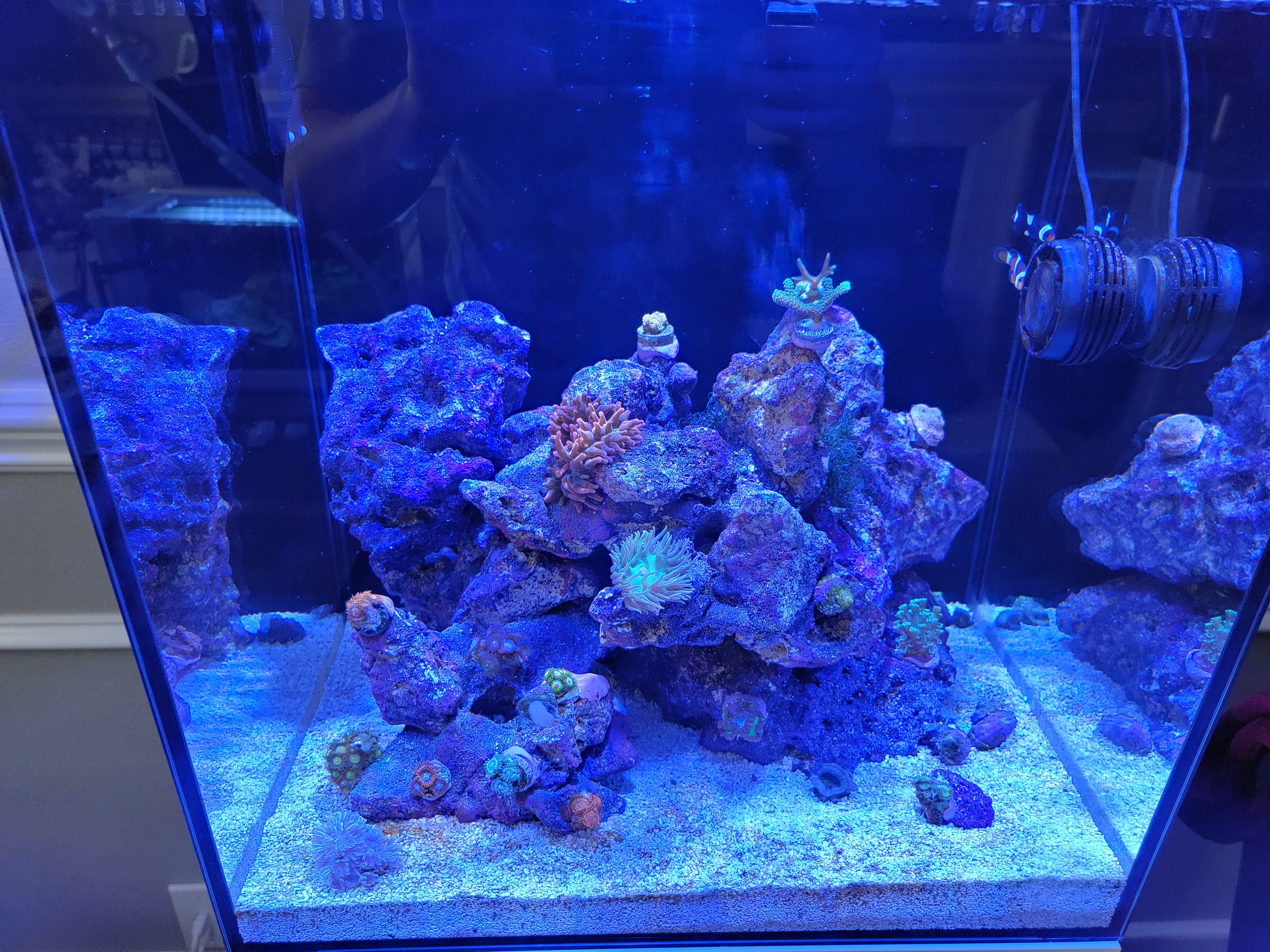 August 20, 2021
I add two new fish pre-quarantined from
Dr. Reefs Quarantined Fish
. An orchid dottyback and a Firefish Exquisite, each arrived incredibly healthy and have thrived to this day of writing (3/17/22.) The firefish is incredibly shy so I really only see him during feedings and when the pump is off and he thinks I'm feeding.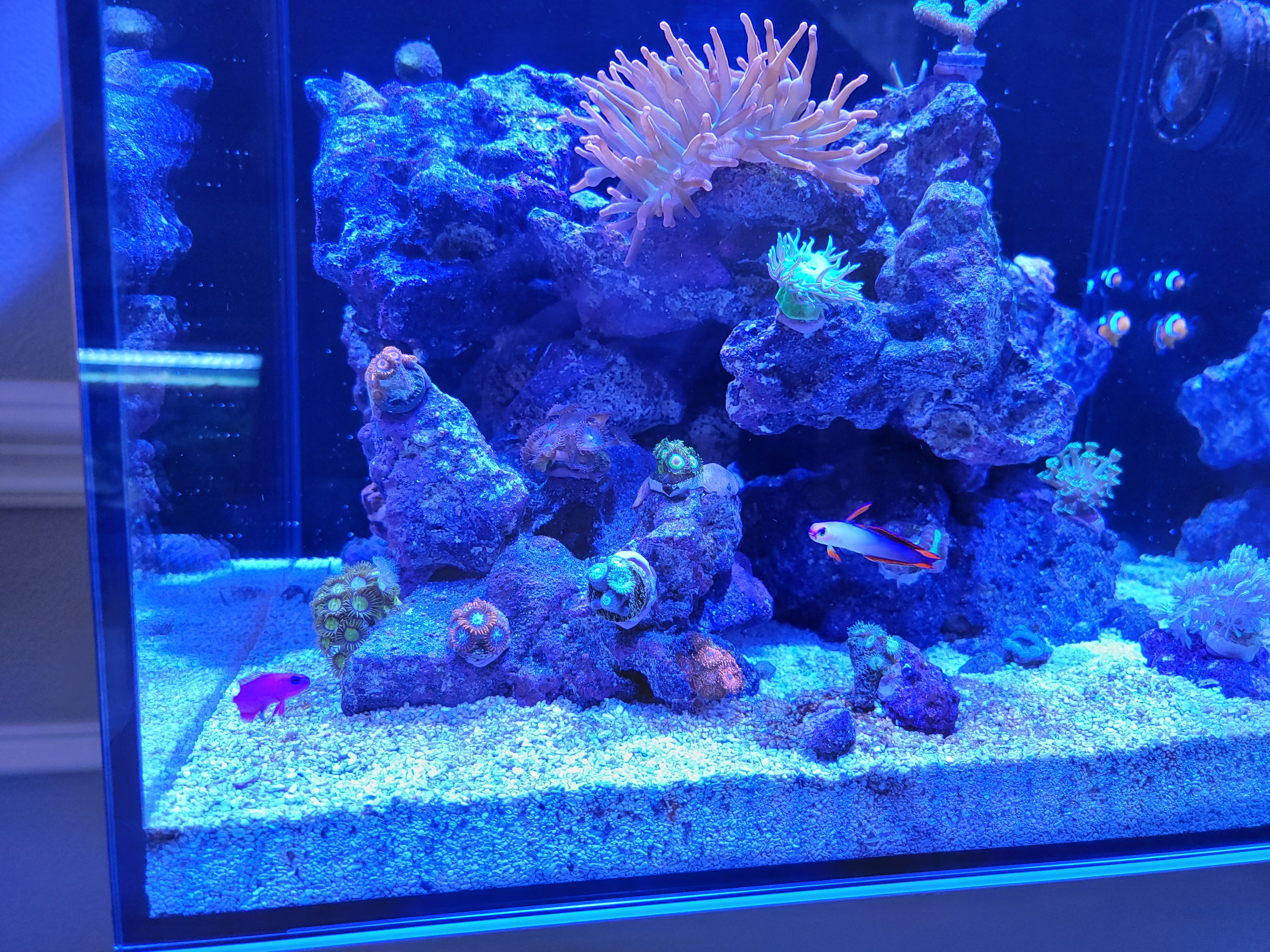 August 24, 2021
I order a few more coral. I literally can't stop myself trying to fill up this tank, perhaps too quickly. Things are good though, the only slight struggles are with one monitpora, and I eventually kill it by doing a freshwater tip attempting to rid it of a bunch of hydroids under its growth/cap. Another stupid thing and lesson learned.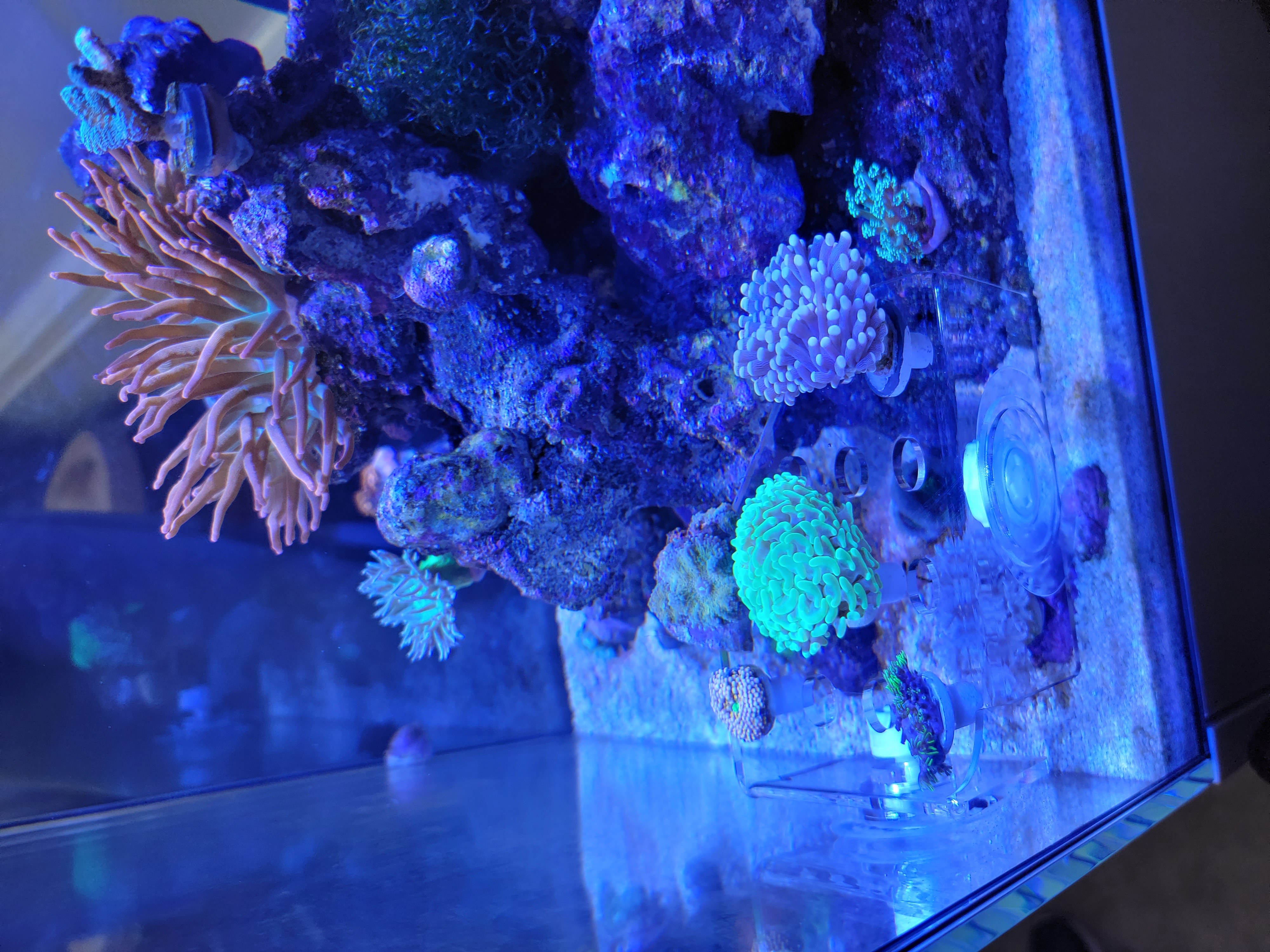 I think that's about it for now, stay tuned for the next round of updates. Plenty more to share and I'll admit, things eventually turn a bit crazy.