Price to sell before I get the inch to fill them up. Pickup in temple city.
$750 Red Sea reefer 750 xxl - comes with tank, stand and stock sump.
Center has been installed and was running flawlessly for the last 2.5 years.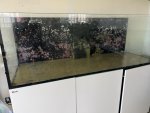 $350 Frag tank drilled with left overflow. Comes with stand. Dims 60" x 24" x 16".