Hello All -
Selling three coral rocks
Rock 1 $150- Very large (would need to bring a wide cooler or something to carry it) rock with a huge monti cap colony, purple stylo colony, and tri color valida colony. Some sporadic zoas as well.
Terrible pic but you can see the colonies. You can also see it on my build thread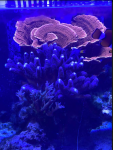 Rock(s) 2 - $75
Rocks have a green slimer colony, pavaona and red, teal, and green digitata colonys. When this grows vertical a bit more, I think it will be really, really attractive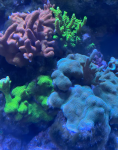 Rock 3 $50 is a large rock with a decent sized rainbow monti colony on it. Cant really get a pic as I cant get it because other coral is in the way. The colony is a little smaller than my hand. All rock was tampa bay aquatic live rock that was shipped in water when I set it up.