Joined

May 18, 2018
Messages

58
Likes

9
Points

8
Location
I've been out of the hobby for a few years & moved to CA from NJ. Finally ready to get started again and here's my setup:
Tank
: Innovative Marine Lagoon 25
Stand
: DIY Ikea Silveran Cabinet (
https://www.ikea.com/us/en/catalog/products/10270770/
)
Rock
: Vidarock Centerpiece (
https://aqua-tecture.com/collection...darock-centerpiece-1054?variant=7534083276830
)
Light
: AI Hydra 26 HD
Tropic Eden miniflakes substrate (added after i took pics)
Tunze ATO w/ 12~ gallon pet food container as reservoir
Innovative Marine Desktop Skimmer
Cobalt Neotherm 100w
Syncra silent 1.0 return pump
MP10QD
Still to buy:
Apex Jr mostly as failsafe for heater
The idea behind this tank is to have mostly everything I want as far as equipment and to keep the look as clean/minimal as possible. I haven't put much thought into the livestock but will probably end up as a mixed reef with a few fish. I'm open to suggestions.
I got some liverock from the LFS to start the cycling process about two weeks ago. The sand went in last weekend and dumped in some Bio Spira. I had some diatoms bloom before adding the sand & that is still going on this week. I'm not sure where I'm at in the cycle but I'll test soon. I'm thinking it will be a fast cycle since the vidarock is man made. I think I'll do a water change this weekend.
Not much to look at now.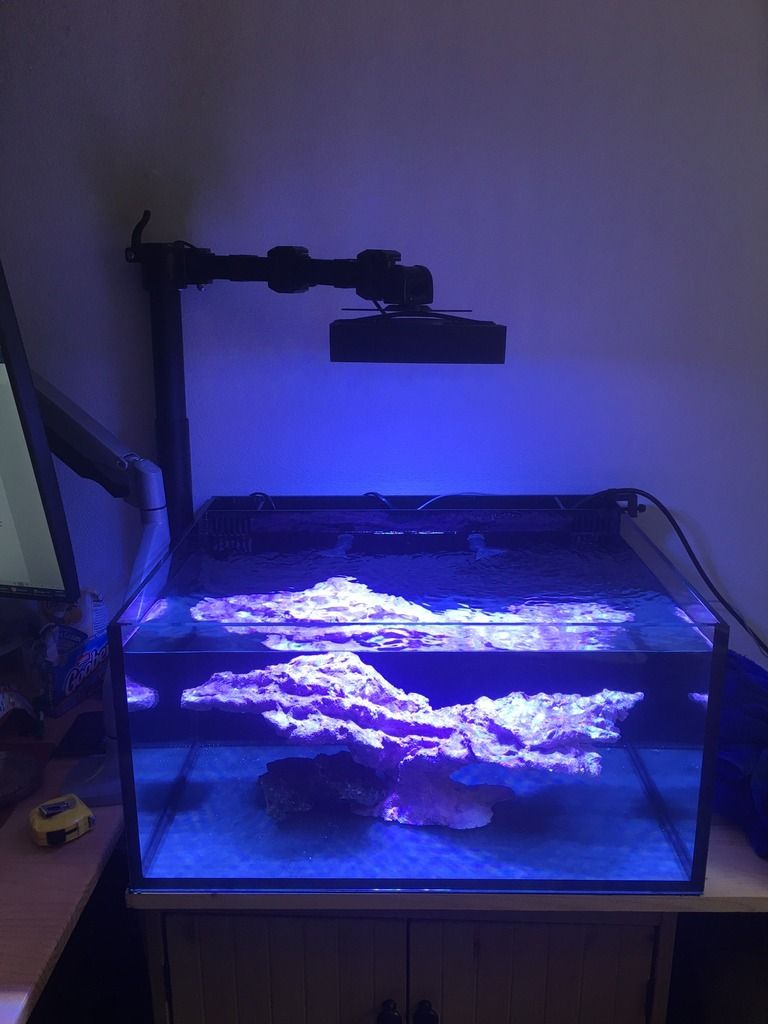 My old 40B before I broke it down