ADDITIONAL PICTURES UPLOADED IN THREAD
Added a few corals last night . . . . woke up this morning to this thing stuck to the overflow grate . . .
Its free floating form resembled a doughnut like plastic bag floating in water. Upon scooping it up it turned out to be a strip, which reacted to the touch and each of its two ends curled up into what you see in the picture below:
WHAT IS THIS THING!!!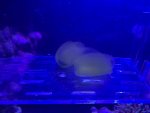 Last edited: