member: duecejt/josh toups san diego, ca
History
I have been in this hobby for about 15 years. I have worked at local aquarium shops most of that time. I have set up countless reefs of my oven over the years but this one is by far my favorite. This system was my first attempt at an SPS dominated tank. This reef set up was a little over 3 years old. It was broken down over the last few weeks and the animals are now in a 350 gallon. 72"Lx36"Wx30"T with a monster sump.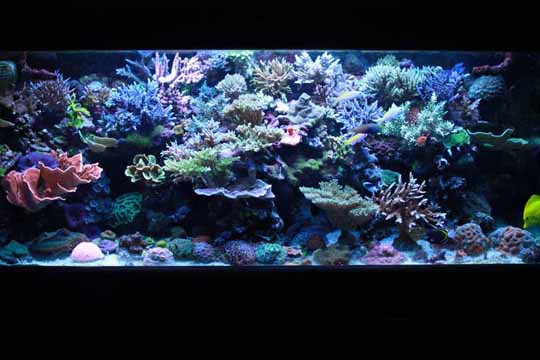 Tank
This tank is a 60"x24"x24" Lee Mar Star Fire glass Euro braced with a trap overflow box. The overflow box has a 1 1/2 drain hole. The return lines come up the back and fed to 2-1/2 " Sea Swirls and a few other Loc line fittings with round tips.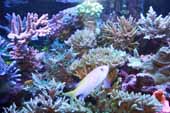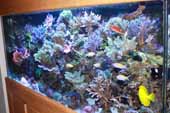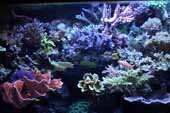 Lighting
The tank was originally set up with 2-400w XM 20"s and 2-96W Compacts for blues. Along with my 1/2 HP Current chiller SDGE loved me. Over the past year and a half I switched over to T5's. I run 2 Icecap 660 ballasts that each feed to 4-54w ATI bulbs. I run 6 ATI Blue plus and 2 Aqua Blue Specials. Blues run 9hrs and whites run 8hrs.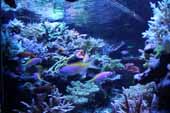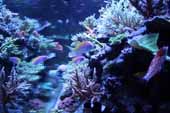 Circulation
My Main pump is a Blueline 70. 1780gph I believe. That one pump feeds my 2-1/2" Sea Swirls along with 2 other returns that have 1/2" Loc line fittings. In addition to that I run 1 modded Maxi jet 1200 a MP40 on Reef Crest as well as a MP10. I am a firm believer that the alternating heavy flow is the key to healthy SPS.
Filtration
I use an old 40 gallon acrylic tank as my sump. I have the drain feed to a hanging 8" micron bag (replaced weekly). I have an older Euro reef skimmer 8"diameter x 24"T that is fed by a Sedra 5000 modded with an extra venturi. My main pump not only runs the tank but it feeds my MTC Pro Cal calcium reactor, 1/2HP Chiller, Frag tank and two little fishes media reactor with GFO. To maintain my KH and Mag I add SeaChem Reef Builder to my top off water as well a Magnession P from Brightwell.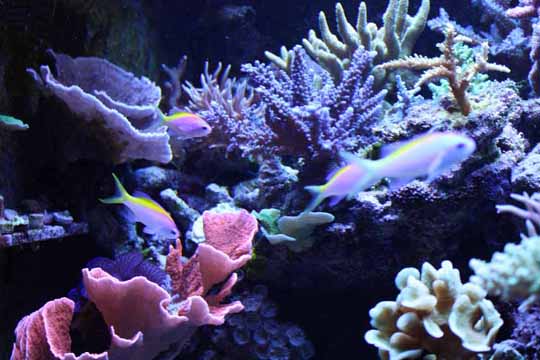 Water Parameter
Temp. 79-80 degrees
PH 8.3
Cal 450
DKH 8-10 tested weekly!
Mag 1250

Fishes and Corals and Critters
Well writing this was kinda tough. Over the last couple weeks my fish came down with Ick. I introduced a Borbonius Anthias and I think that's what triggered it. I lost 6 fish in 1 week. 3 Evensi Anthias, Borbonius, Powder Brown, Mandarin Dragonet. I am a big fan of Wrasses. I currently have a Male Flame Wrasse, Bali Leopard, Ornate Leopard, Black Leopard, African Leopard. Had a Chaoti for a year and it jumped and a few Potters Wrasses that got beat up. Other fish in the tank are a Yellow Tang, Green Mandarin, Black Clown, Yellow black and White Damsel, Yellow Watchman Goby, Mal & Female Pavarostris Anthias. I recently added a UV sterilizer and soaked all the food in Garlic. Everyone looks OK now.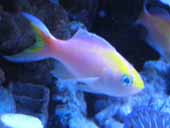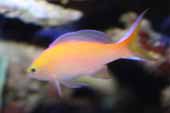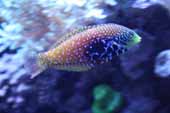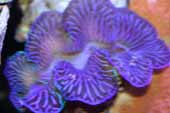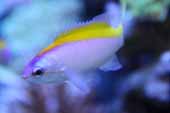 Coral
Well as you can see there are several SPS colonies at the top. Most were purchased as frags. I have recently be bit by the collector Chalice bug and I have a few nice pieces with goofy names. Monster Mash, Bubble Gum Monster, Mummy Eye, Blue Magic. Etc. I also have a few Acans that were collected during the Acan craze a few years ago. Ricordeas are also one of my favorites. I have several Orange and Blue Floridias I also like the Yumas I have few nice Pink's, Oranges, Purples, Greens. Of course no reef is complete with out a few Clams. I have 1 Maxima and 1 Crocea. Now I have a bigger tank can start on the nice Scoli's.
Acknowledgements
Thanks to my Wife who puts up with my obsession. Other thanks go to Jasper RIP. MFR, LOoser, Hybrid, Reefrf for the inspirational tanks. I always wanted my tank to look like theirs. Keep on Reefin! Thanks Socali Reefs for honoring my 150 Reef!
-Josh AKA Duecejt