Lets try this again, what an idiot!
Now that I'm about a week or so out from filling this up it's time for a new build thread.
Preface this build .... (Feel free to skip this probably a bit longwinded
)
I still feel like a total beginner to this 2 years in and felt like I have always been "in-between" tanks. Admittedly this is my fault I was always looking to upgrade, upgrade this, upgrade that. I do enjoy the setting up and collecting the equipment as much as the actual reef keeping, gear head. But I intend to and have been trying to be more of present user of this forum that has helped me. The current tank was supposed to be a FOWLR for a pair of clowns (Oooops) I couldn't get rid of in a breakdown about this time last year. That quickly changed and this tank has shown me some awesome bits of these eco systems I didn't experience on my first build.
Current Set-Up: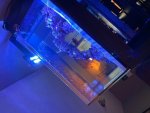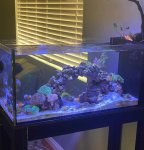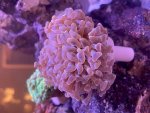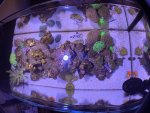 Equipment on the new build is all a little oversized .. I bought and built a Reefer 350 that I ultimately decide was too big for my place. I was trying to sell off the equipment to fund a new smaller build when I realized why not just keep and run it on this tank. Im learning a little LOL
New Build Equipment:
Nuvo 30L EXT (Worlds last I'll have you know ... funny story, I'll tell if you ask nice
)
3 AI Prime 16
Reef Octopus 152S Skimmer
18W UV Sterilizer
Varios 8 (Turned way down it'll also power a manifiold)
The sump is the missing piece and I'll post more on that when it's here. Should be done this week, fingers crossed.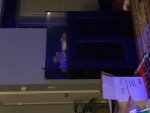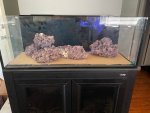 Going for an open scape to let the corals grow into, the nuvo 20 feels a little crammed. And thinking about adding a rock shelf in the middle section. Open to ideas and suggestions I have tons of leftover rock from the build that didn't happen.
Reefer 350 for the memory. I even built a manifold
, I sold it to another member here so hopefully I see a build on it soon.