I have 99% pure Calcium Chloride peletts perfect for dosing Randys 2 part or 3 part. Calcium chloride buy as little as 2 pounds for only $10.00 or 50 pounds for $45, that's less then $1.00 a pound.
Perfect for two or three part dosing. Compare And save. Pick up in west Anaheim or at most SCMAS meeting with advance notice.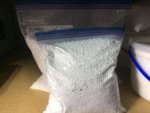 2 pounds.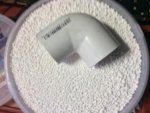 5 pound bucket with 1 1/4 90 degree PVC fitting for size reference.