Hi all, let me tell you first about my tank.
Capacity: 110 gal
Sump: Yes
Lighting: 2 Radion XR30 G4 and T5 hybrid
Flow: 2 MP40 & 1 MP10
Refugium: Yes, red macro algae and chaeto (Kessil H380)
Skimmer: Yes (rated 150 gal)
Carbon: Yes (Red Sea brand), changed biweekly
Mechanical filtration: Yes (Polyfilter in media cups), changed twice a week
Salt mix: Tropic Marin Pro
RODI: Yes, 0TDS
Water Changes: Yes, weekly, 10gal
Bioload: 9 reef safe fish (angles, clowns, tangs)
Type of Reef: SPS dominant (90% acros)
Coral count: 36+ acros
Rock: Yes (60 lb)
Sand: No, bare bottom
Dosing: Yes, 2-part Soda Ash & Calcium Chloride (GHL 2.1 doser) and KALK (100mL daily no changes), Discontinued Potassium Nitrate
Tank age: 2+ years
Parameters: Alk-9.9 / Ca:440 / Mg: 1490 / NO3: ~3 / PO4: 0.05 / PAR: ~320 avg
Feeding: Spectra Thera and frozen food (blood worms), Heavy twice a day, Discontinued Oyster Feast
Test Kit: Hanna Alk checker, Salifert Mg, Red Sea Ca, Hanna low range PO4, Nyos NO3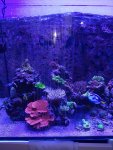 Question
: Alk has been stable for the past 6 months at 8.6 dKH and consuming 130mL of equal 2-part per day (+100mL kalk/day). I had a crazy swing of 1.5 dKH rising to ~10dKH when I started dosing Potassium Nitrate to increase nitrate to ~5ppm since it was undetectable 3 months ago. I have since stopped dosing Nitrates and performed a 30gal water change for three days to slowly bring down the Alk level back to 8.6, which it did, and stayed there. A month ago however, I started noticing my Alk was slowly creeping up again ever since I started feeding oyster feast. My response was to decrease the daily dose of 2-part and adjust it accordingly. Fast forward to today, my Alk is at 9.9, and exactly 3 days ago it was at 9.6, a 0.3 dKH increase. What I think is happening is my tank is stabilizing at a higher Alk value. Today my 2-part daily dose is at 120mL For both. I will update on the Alk level after the W/C.
Back to my question;
Could my feeding of coral foods or dosing nitrates unwillingly increase alkalinity?
Reasoning:
Everything in regards to water chemistry is consistent. Test, use reef calculator, adjust daily dose of 2-part, retest, repeat. Alk was rock solid for a year doing this. It was only until after I started messing with nitrate dosing and feeding oyster feast was when Alk started swinging.
Thanks all for your input.