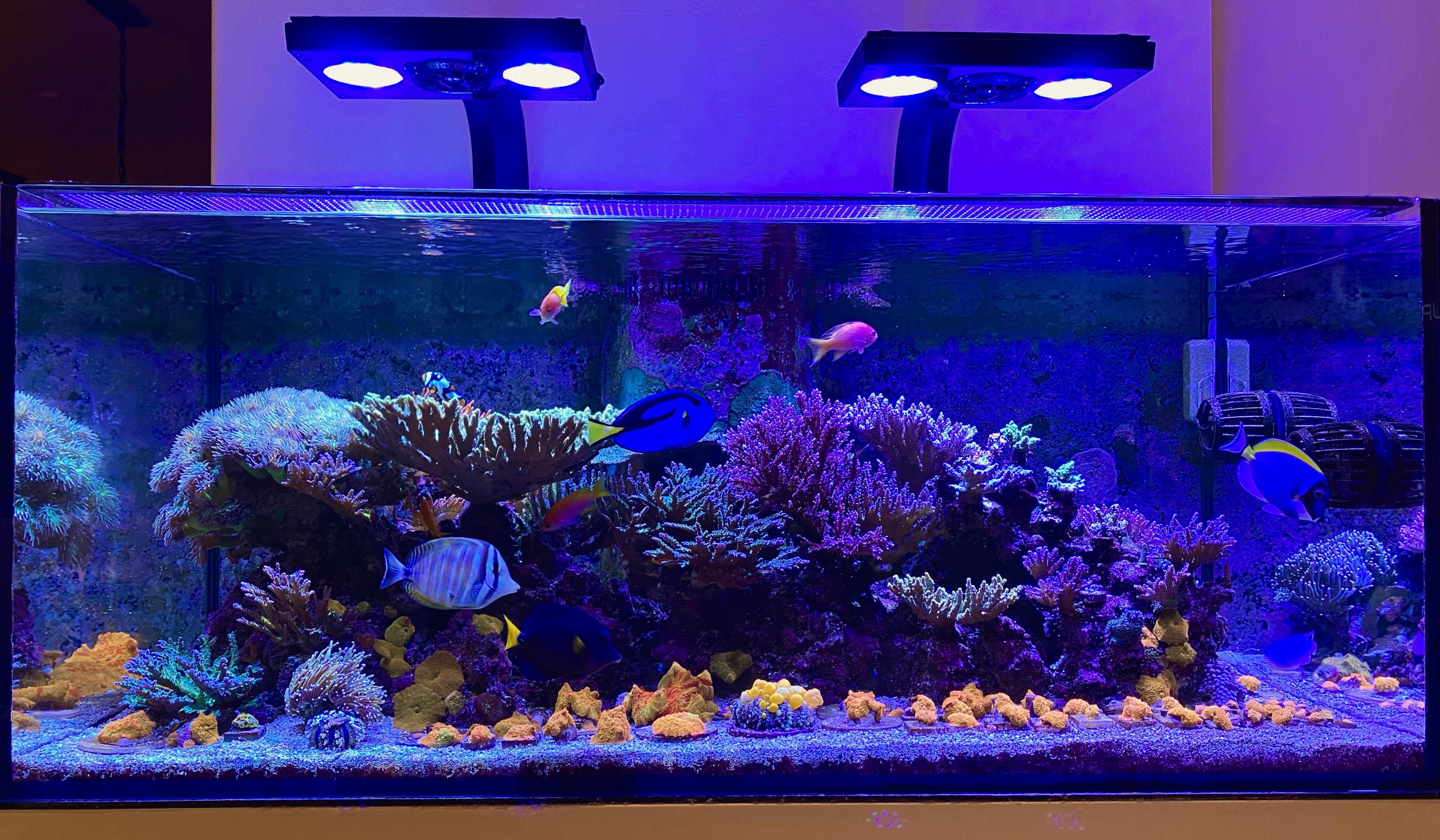 ​
SCR member screen name @taphil
Since OCT 2014.
From SVG, CA
Favorite LFS is Jan's Topical Fish in Montclair CA
​
Introduction

I had freshwater fish tanks as a kid and through high school, college, and medical school. I never looked into saltwater or reef aquariums, as they seemed too difficult and pricey. Then during residency training, I met a former NASA rocket scientist who has been in the hobby since the early days and said it wasn't so hard and helped me get started. It's been a fun, frustrating, entertaining, sometimes heartbreaking, and definitely expensive journey ever since.
My philosophy is to keep it simple and have a backup or failsafe system in place for things that can go wrong. My first tank was a JBJ Nanocube 28G that was going to be TOTM on Reef Central, but it crashed just a couple of days after due to a malfunctioning heater stuck on while I was working overnight and unable to keep an eye on the tank. Thus, I now try to minimize equipment as points of failure and ensure mechanisms are in place for equipment failure.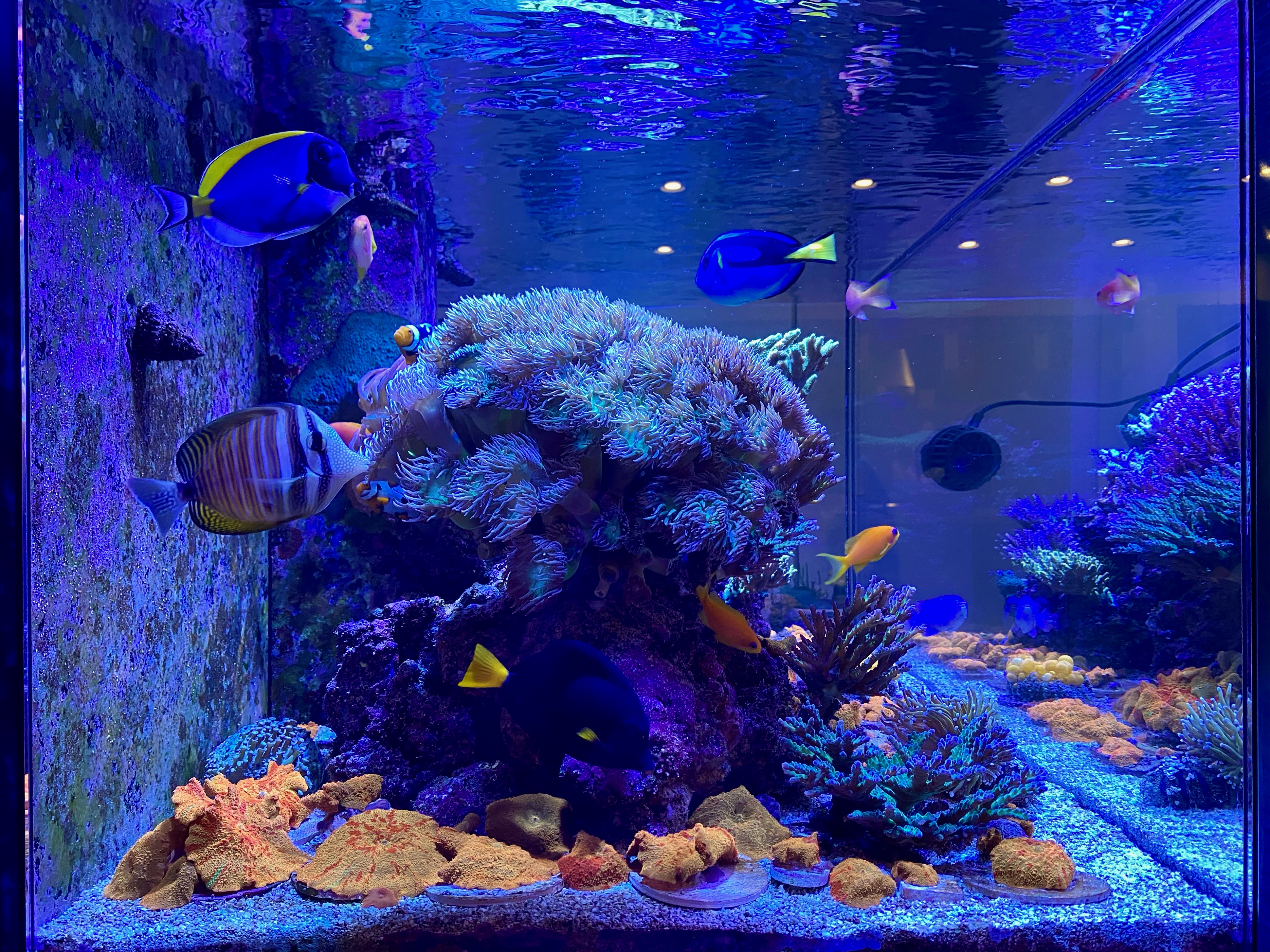 Tank Info

Display tank: CAD Lights Artisan II 100G
Stand: CAD Lights
Sump: CAD Lights
Return pump: Ecotech L1
Protein skimmer: AquaMaxx ConeS Q-2
Light: 2 Ecotech Radion Pro G3
Sump light: Kessil H80
Dosing pump: Bubble Magus 3 head
Biopellet reactor: Reef Octopus BR-110
UV filter: Jebao 36W pond sterilizer
Chiller: JBJ 1/10hp
Powerhead: 2 Ecotech Vortech MP40
Control: Apex Classic
Heater: Generic heater from Amazon with its own controller + Apex control
Auto Top Off: manual addition of 2g every other day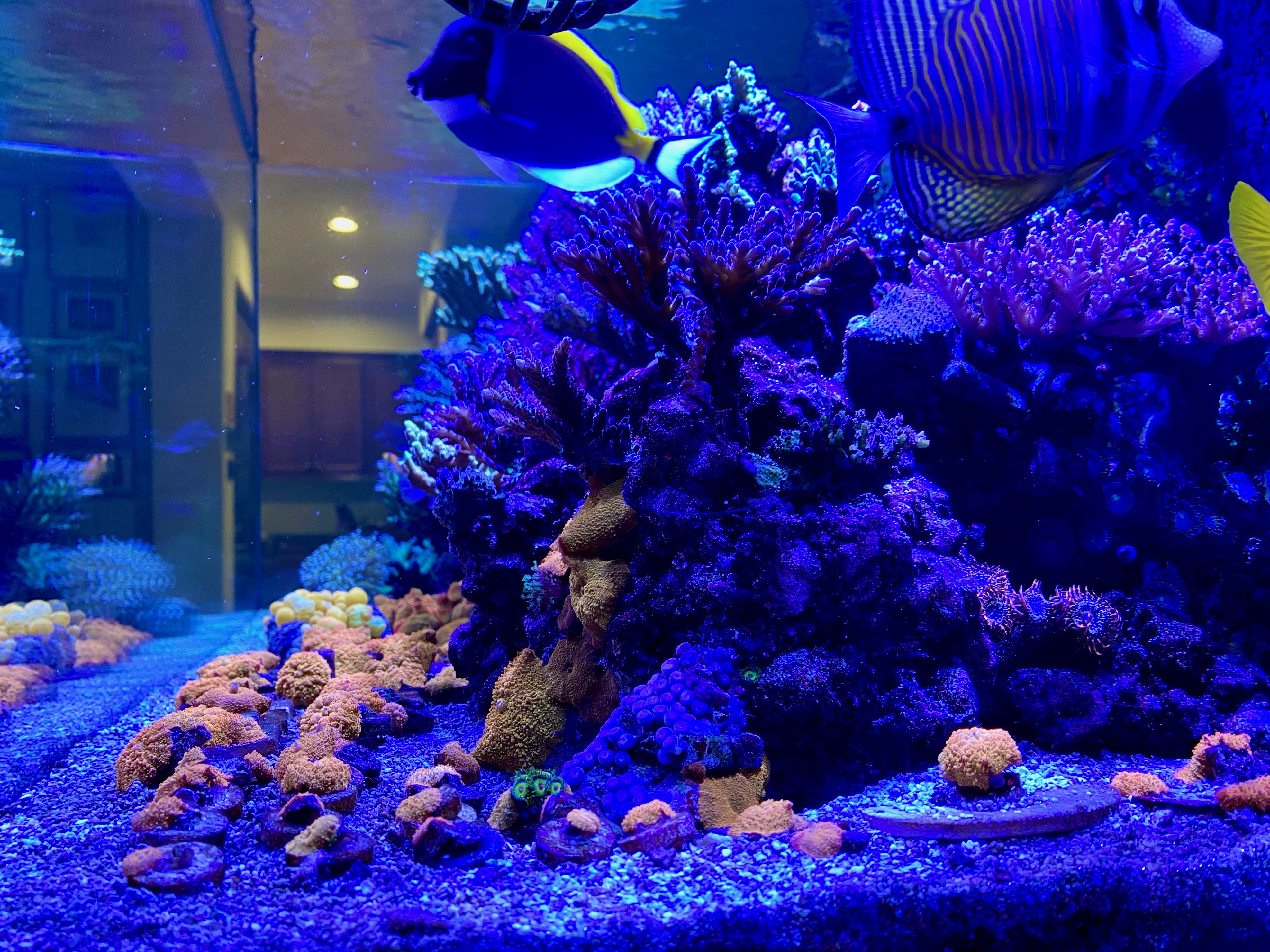 Water Parameters
Temp: 78-81F
pH: 8.0-8.2
Specific gravity: 1.025-1.028
Alkalinity: 7.5-8.5 Salifert
Calcium: 400-450 Salifert
Magnesium: 1300-1500 Salifert
Nitrate: 2-5 Salifert (I only measure once or twice a year, never had a reading above 5 since tank was set up)
PO4: 0 Hanna (I only measure once or twice a year, never had a positive result since tank was set up)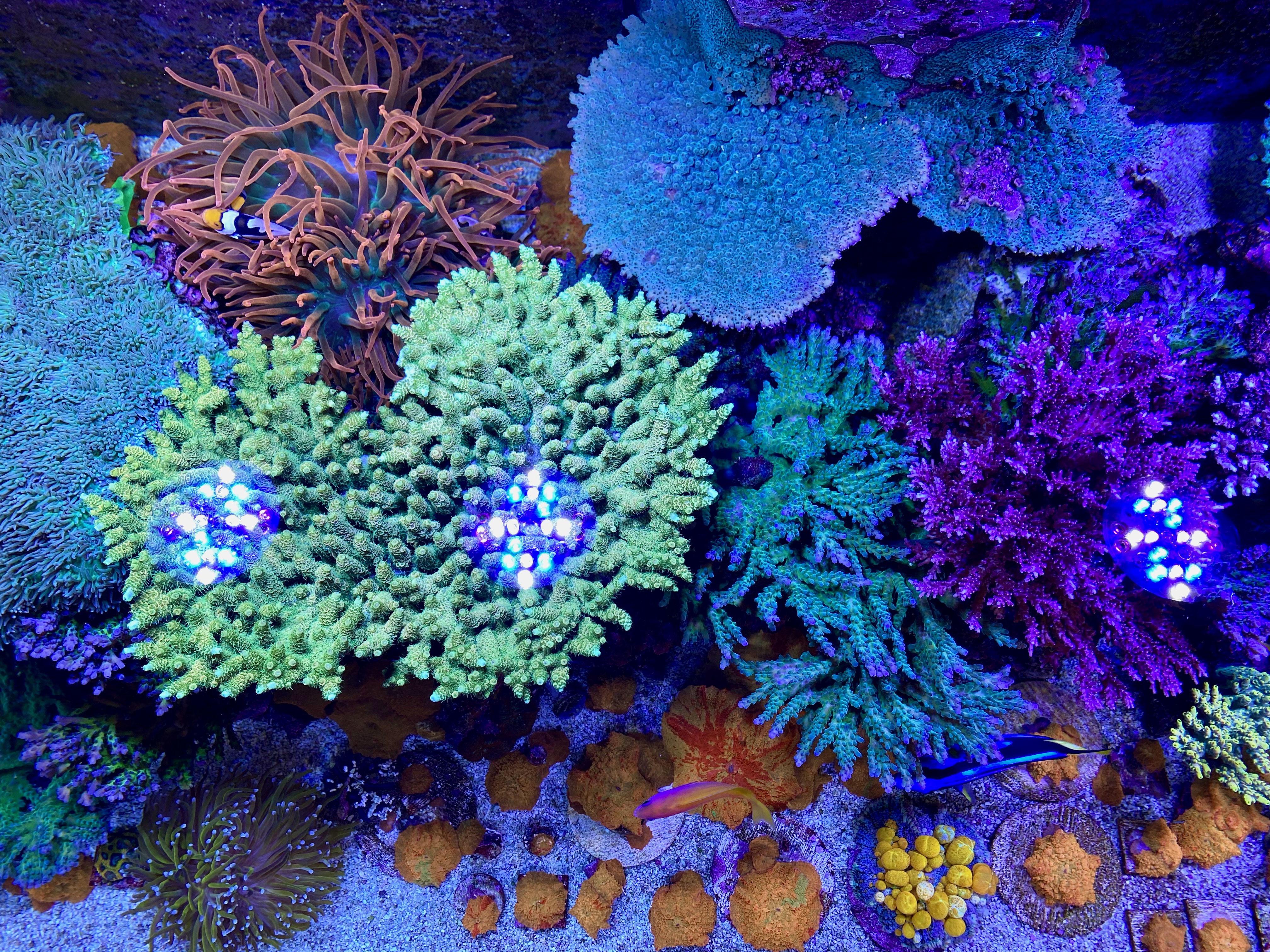 Aquascape and Flow

I put in cured artificial rock (unknown brand) from LFS when I set up the tank and haven't touched it since. The rocks were stacked in the middle of the tank to allow open space in the front and bank for fish to swim and water flow. Two Vortech MP40s in a staggered position provide flow in the front and back of the tank. There are also caves for fish to hide and sleep in. The rocks also allow for corals to grow outward from the center of the tank.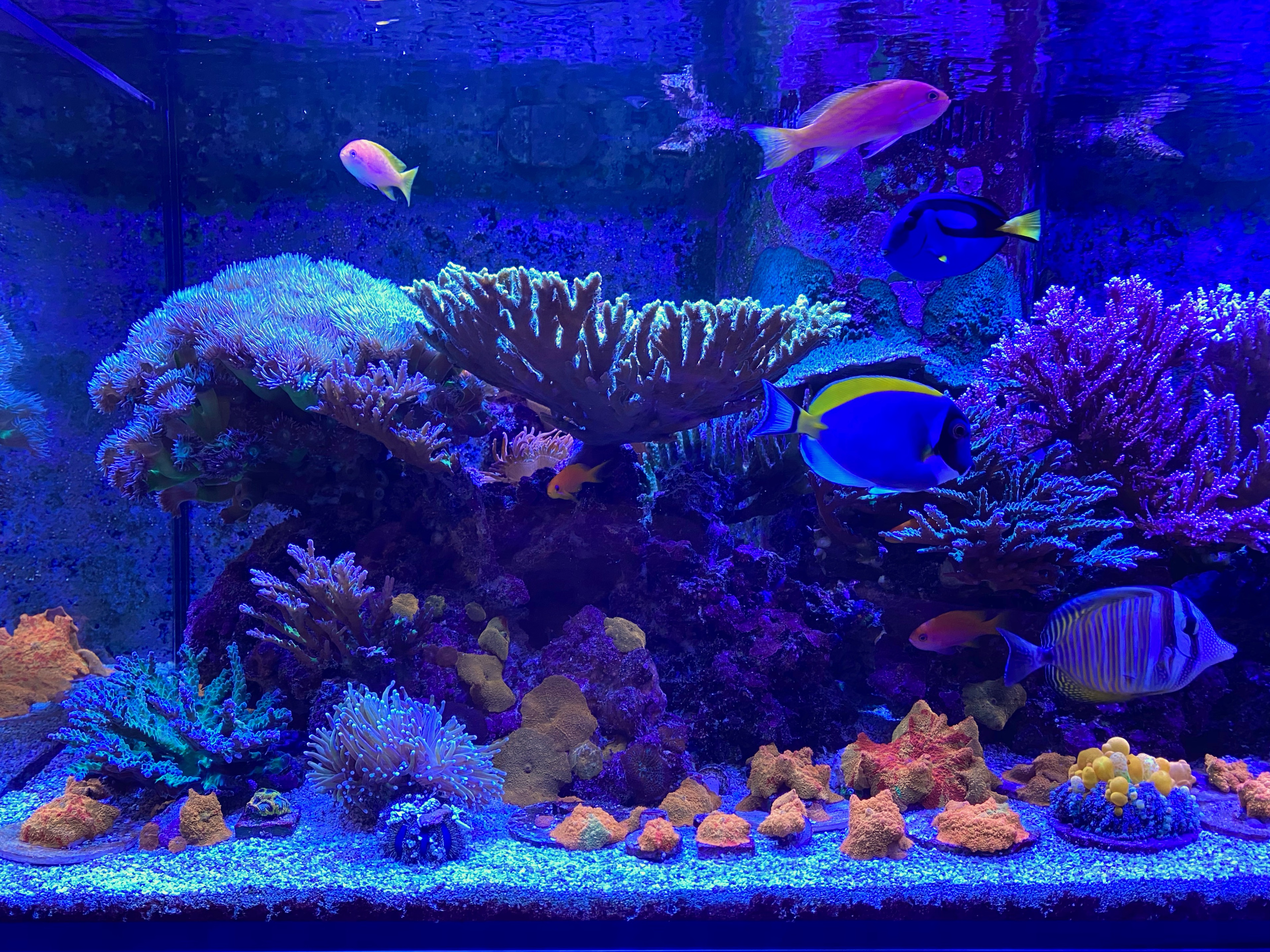 Maintenance

The tank took almost exactly one year to stabilize, in which I was finally able to grow any SPS I wanted. Currently, I do a 15g water change once every 3-4 weeks. I only dose calcium, soda ash, and magnesium. I check those three levels once or twice a month. I only feed the fish frozen Hikari mysis shrimp and Ocean Nutrition Prime/Formula One/Formula Two flakes. I don't feed corals or use any other additives.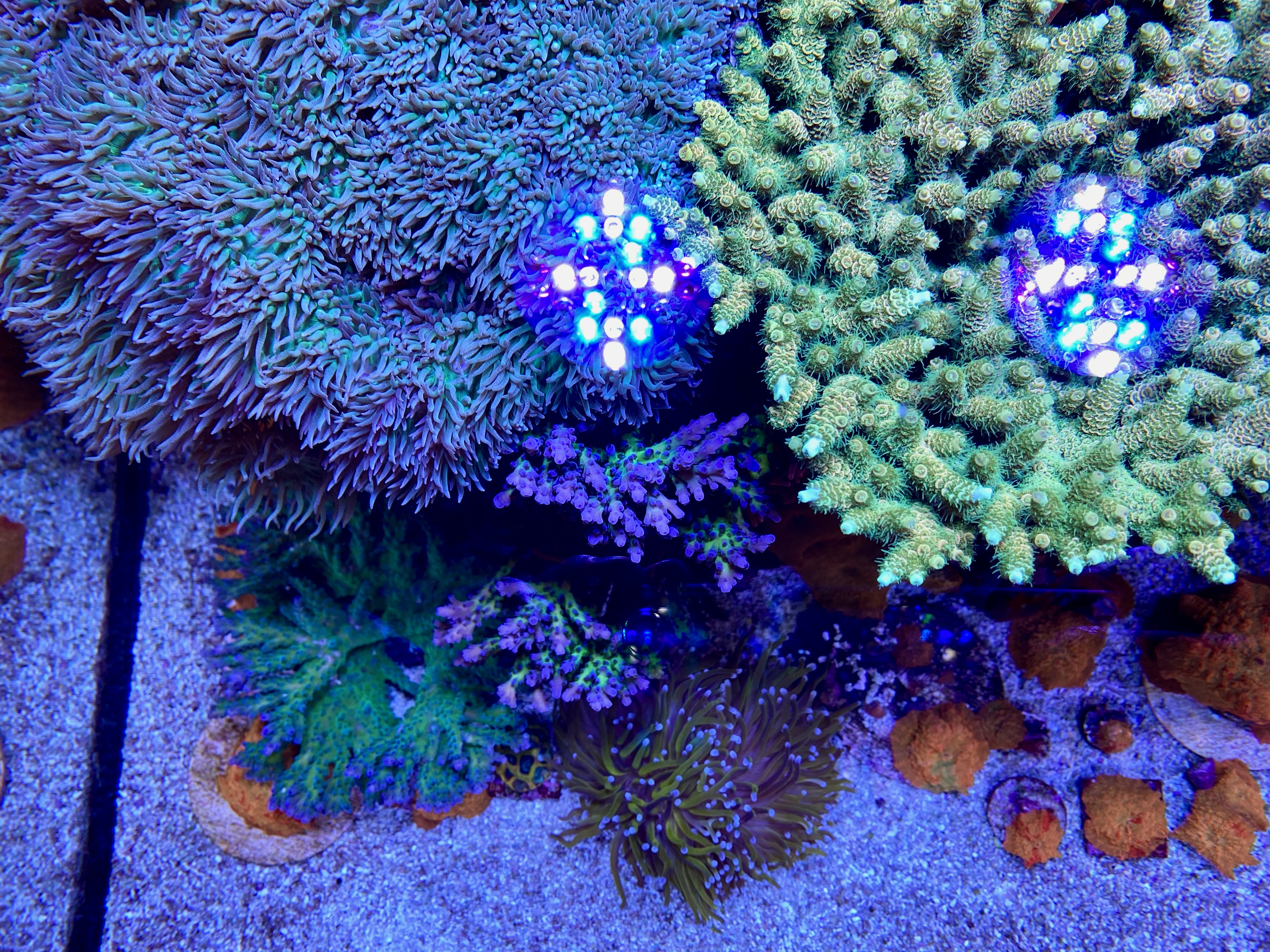 Corals

SPS: Jolt, Homewrecker, Walt Disney, Pink Floyd, ASD Rainbow, Rommel milli, Cali Tort, Myagi Tort, Red Dragon, Garf Bonsai, and some other random ones

LPS: Gold torch, Duncan

Softies: Jawbreaker, OG Bounce

Zoa/Paly: Bowser, Rasta, Fruit Loops, Blue Rhino, Utter Choas

Anemone: Rainbow anemone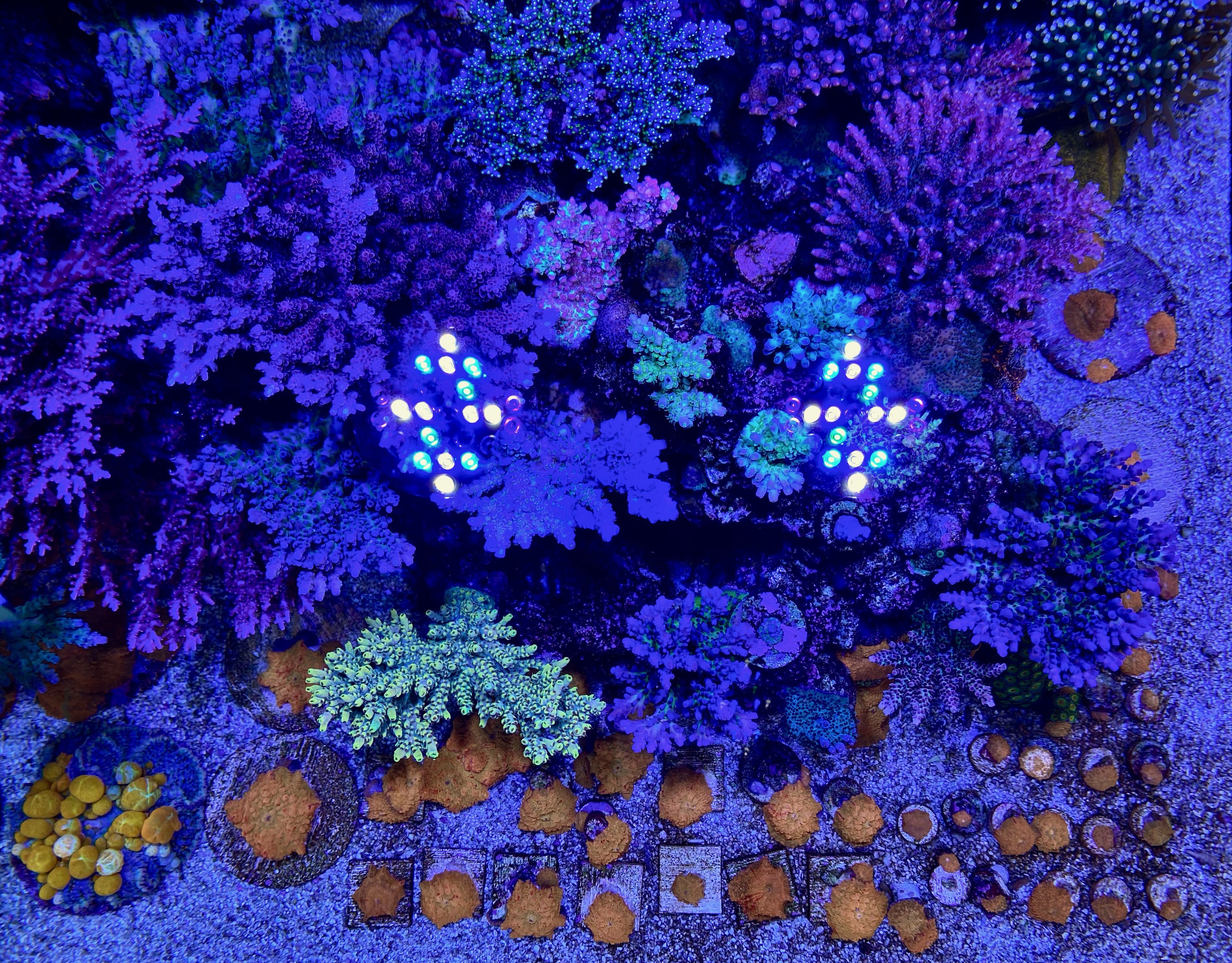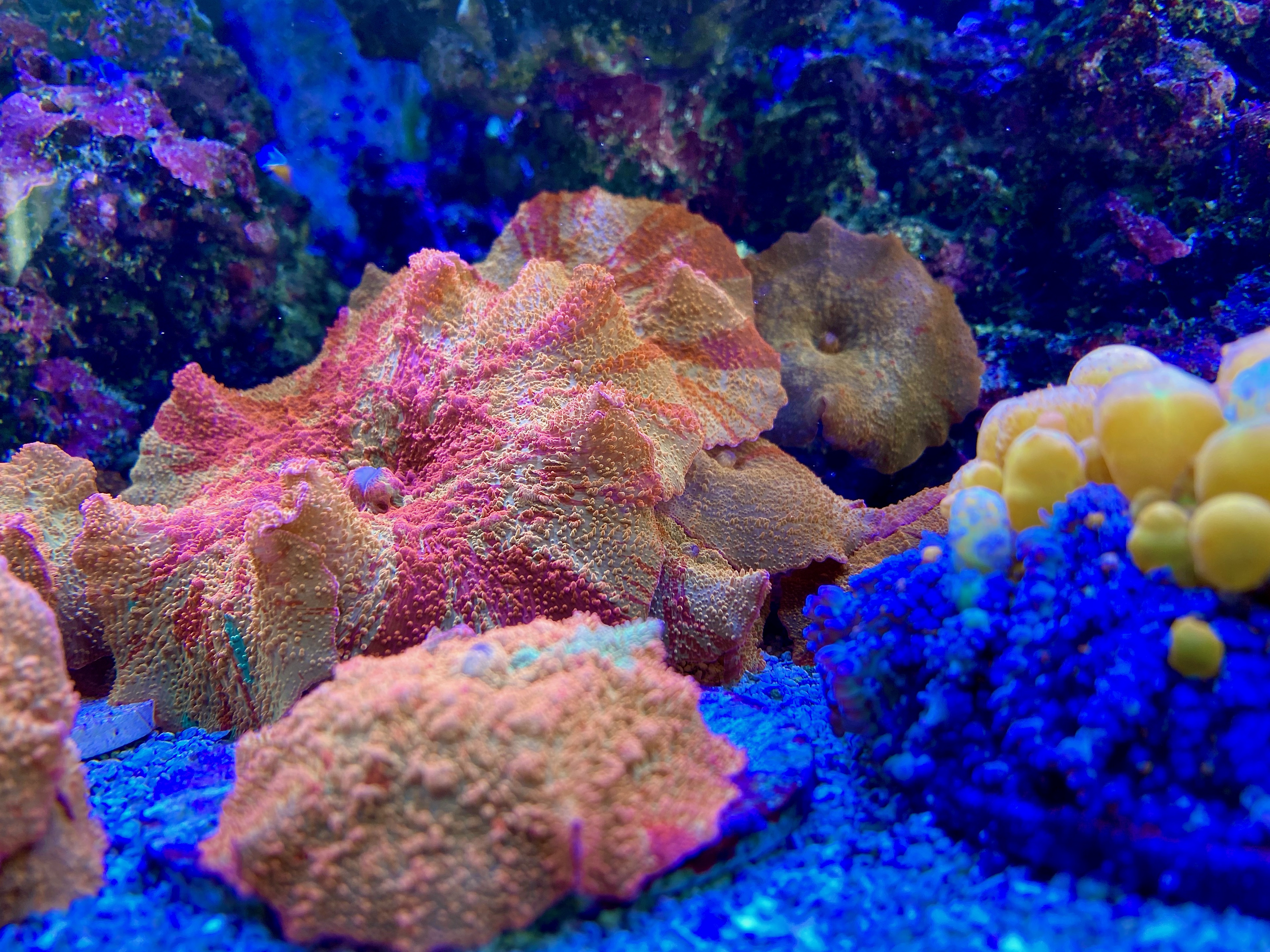 Fish

Bali Picasso clownfish, powder blue tang, Desjardini sailfin tang, blue tang, Red Sea purple tang, Bimaculatus anthias, lyretail anthias, blue chromis, blue damsel, blue mandarin dragonet, Yasha goby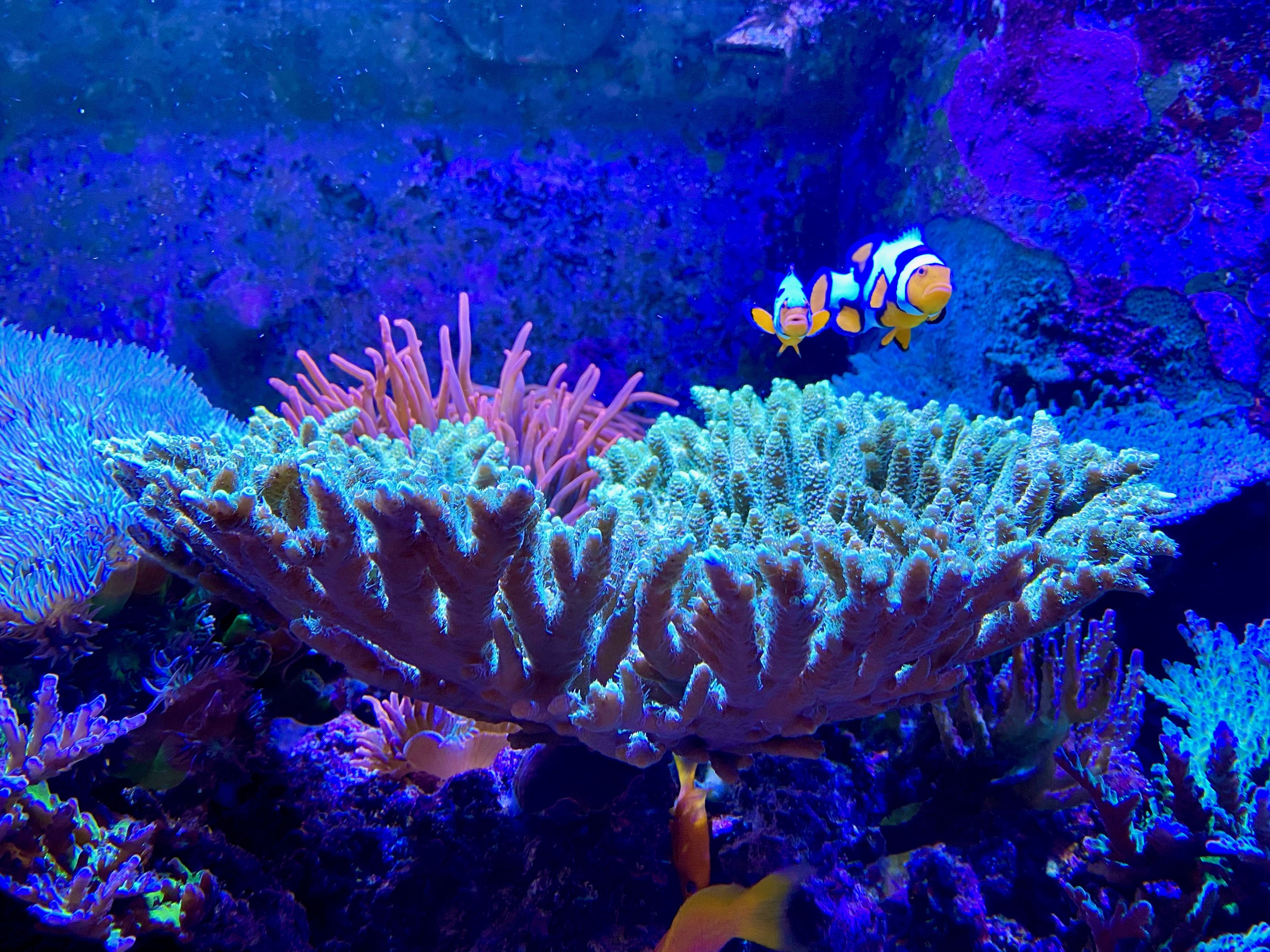 Conclusion

As I said above, it took a year for the tank to stabilize before growing coral became easy. The hobby requires lots of patience, and impatience becomes costly but can't be helped. Nevertheless, reef aquarium keeping continues to be a fun learning experience.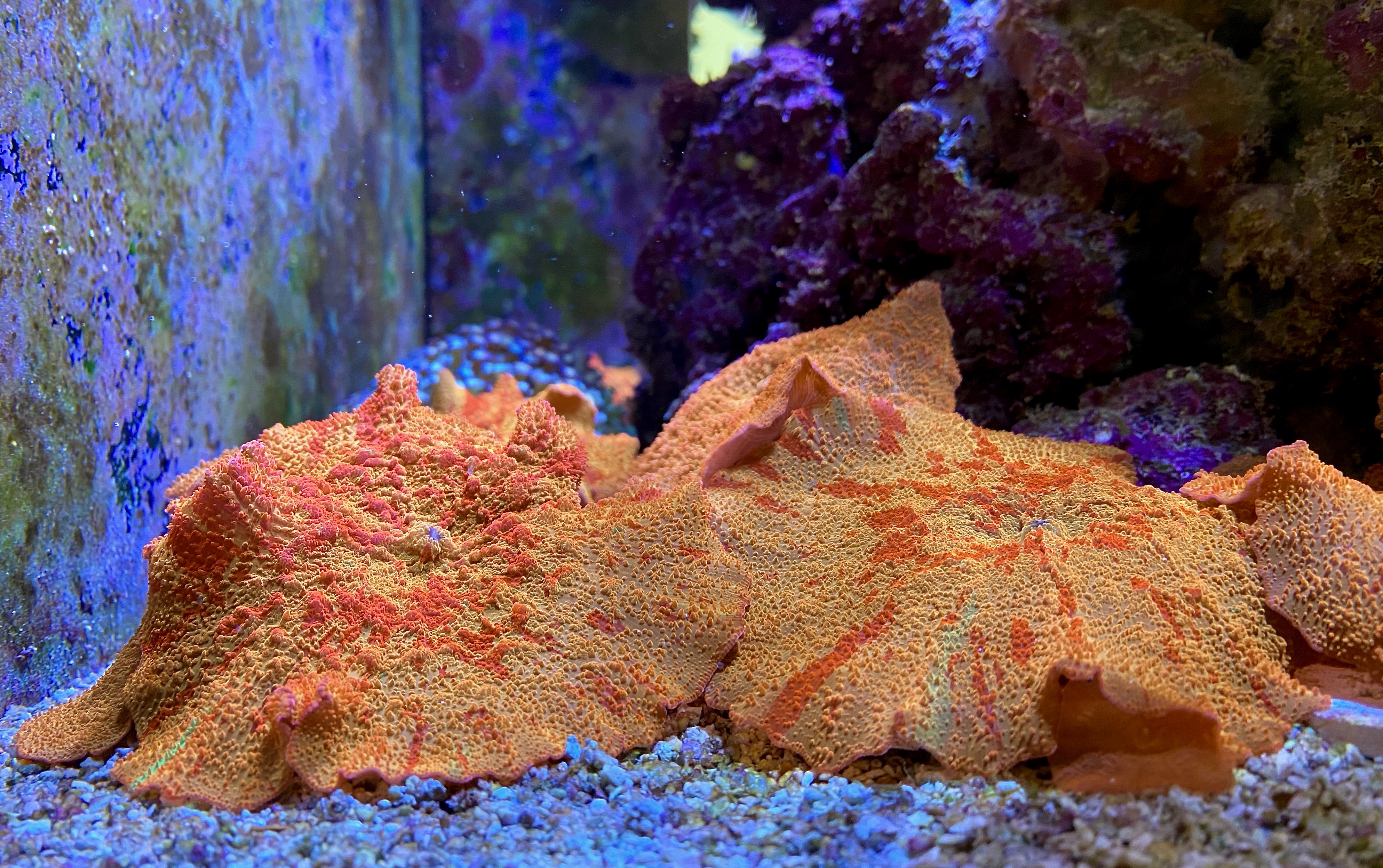 Please continue to support this featured reef by leaving a comment below.