I have a spotcinctus clownfish bonded pair with large pink tip aussie elegance coral available. I've had both the clowns and elegance for about 1.5 years now and they have hosted this elegance the entire time. Local pickup in Orange County CA for $300. Only sold as a pair with the elegance. A video of these fish and coral is available on my instagram @ gem_corals.
We are taking down our display for the time being as we focus on the farm (but will eventually rebuild it bigger and better) and will have some fish and larger corals that need rehoming like this. Interested parties may be allowed to come see the coral and fish to decide on purchase.
Please note these fish may take a bit of time to capture with a fish trap from my display after purchase and may not be available same day.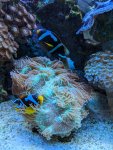 Thank you