Joined

Sep 17, 2015
Messages

15
Likes

3
Points

3
Location
Hello everyone, my names Anthony. Ive been a member for awhile but havent posted too much. Recently, however I set up a 6 gallon shallow tank so Ive been checking out all the deals on the livestock page 😊 figured I should say hi and formally introduce myself!
My build thread is over on nano-reef, but if people are interested, I can always start one here too. Attached is a cell pic of my tank from today so please excuse quality.
Anyways, just let me know if you ever want to chat or see the tank (i'm in santa ana). Always looking for zoas and acros too.
Thanks and happy reefing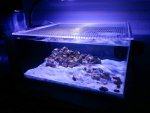 Last edited: