​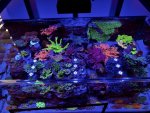 ​
SCR member screen name @newe70
Since July 2012.
From Signal Hill, CA
Favorite LFS is 405 in Westminster CA

Introduction
I was very surprised to be nominated by the SCR Admin for the featured reef tank for May-2020. I am humble and excited about this cool opportunity to participate in our reefing community with many cool and good reefers, whom I have met and became good friends over the course of reefing years. Since I got into this money drain and can be an addictive hobby. I am very sure that there are many other awesome reef aquariums out there, who are deserving to be a featured reef aquarium more than my reef aquarium.

I was a freshwater hobbyist and a big fan of oranda and discus fishes for over a decade long. I used to have a 125g Visio with 20 various adult discuses at one time and love them very much, until some days that I decided to quit and take a break from the hobby. After a few months of being tank-less, my wife wanted to have a marine fish. So this is how the new reefing journey evolving until currently.

I started out a 60g Visio tank with a hob as a filtration system with those easy and hardy starting out corals like we all reefers starting out at one time when we got into this money drain hobby. After about 9-10 months, I decided to tell the CFO wifey that we should go bigger and a nicer rimless tank for our hood. So came the 100g Cadlight Artisan II rimless with a low iron ultra clear glass got my attention at that time through one of SCR vendors here in the past.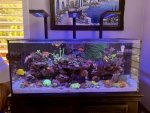 Tank
My 100g Cadlight Artisan II

Aquarium specification and equipment information
47.5" x 23.5" x 20"
1/2" low iron ultra clear with polished edges
Center trapezoid cell-cast overflow box
3-Hole Herbie/Durso style drain system with 1.25" drain pipe
33g glass sump came with the aquarium package
42" tall custom wood stand with innovative design area flush mount for the ADJ power strip
AquaMaxx EM200 skimmer
Tunze ATO
Bubble Magnus doser
Neptune Apex EL
BRS 4 stage RODI system
AquaMaxx media reactor for combo carbon and GFO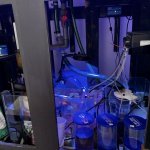 Aquarium lights
3 AI Hydra 64HD
Kessil H80 for the sump

Aquarium flows
2 MP40 quiet drive

Water Chemistry
Temperature range from 77-79 degrees
pH range from 8.0 - 8.06
Specific Gravity 1.025 - 1.026
Salt use with Fritz Pro salt
Calcium last tested by Lab 440
Alkalinity last tested by Lab 8.7
Magnesium last tested by Lab 1410
PO4 0.06 (high)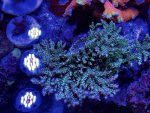 Aqua-scape
200+ lbs of live rocks and all rocks are now aging with purple coloration and many clear sponge from the KZ sponge power supplement. My aqua-scape was designed by a formation of 3 islands and a small bay. There are a lot of hiding spots and small caves for wrasses. The sand bed is about 3" deep for sand sleeper wrasses.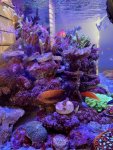 Husbandry and maintenance for the aquarium
I do a water change once or twice every 2 weeks with 10g each time. Filter socks are being cleaned once a week and empty out the skimmer cup once a week. I do deep cleaning the aquarium 3 glass panel once every 2 - 3 weeks or as needed when there is an issue with the algae outbreaks as we all do run into this issue from time to time right. Sandbed also being vacuum out to maintain the color of the sand to be as natural as possible. The sump is also being clean once every 1 - 2 months. All led fixtures are scheduled to take down for cleaning twice yearly for optimum performance.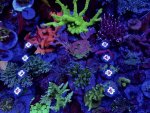 My reef tank was one time a Zeovit tank, but too much manually dosing and agitate the Zeovit reactor 2x a day over the course of time. I became lazy and it was too much of a task and reefing chores. Therefore, I had decided to stop doing the Zeovit system. The one thing that I missed about the Zeovit system is the color of the sps, where I once time had a dominant SPS tank. Until the crash that wiped out about half of the tank.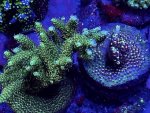 I have been trying to keep things simple and only dosing a few chemicals and supplements for the water and sps. I am dosing the Mag, Alk, and Cal through the Buble Magnus Doser. I also dose the KZ sponge power, KZ Coral Vitalizer, Aquaforest AF build. I do not do much testing. If things are happy then, I would assume the water parameters are within their ranges, bad process. But I am very lucky to have no issues for nearly a year now.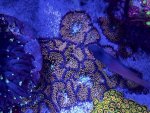 My coral inventories

Rommel milli
ASD rainbow mill
Sunset milli
Rose milli
Rouge milli
Oregon tort
Miyagi tort
Cali tort
Walt Disney
RR Orange Passion
Tenius
Pink cadillac
Garf bonsai
Tierr del fuego
Ora frog skin
Shade of Fall
Red Planet
Green slimer
RR Pink floyd
Slime ball
Rainbow hyacinthus
JKR rainbow
Yellow psammacora
Bbg digita
Green digita
Green fungi plate
3 others sps colonies with no names
Florida ricordea
Japanese willow
Zombie white
Pink diamond
My clementine
Spongebob
Killowog
God of war
Ring of fire
Rasta
Bam Bam
Butt kisser
Tyree rainbow
Purple hornet
Red hornet
Biohazard bounce
Frankenstein bounce
JF Raunch bounce
Neptune bounce
OG bounce
Duncan
Red gonna flower pot
Mummy eye chalice
Flamethower chalice
Acan
Indo torch
GSP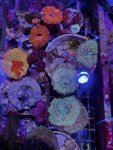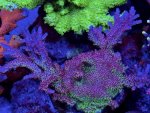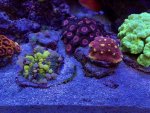 My fish inventories

Gem tang
Yellow tang
Potter angel
Frozen frostbite clown
Starry blenny
Orange spot goby
Cleaner wrasse
Rosy scale wrasse
Pintail wrasse
A pair of crescent tail wrasse
A pair of Flame wrasse
Male Rhoimboid wrasse
Super male lineatus wrasse
Cherry wrasse
Magma wrasse
African leopard wrasse, and
Blue Star Leopard wrasse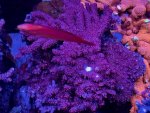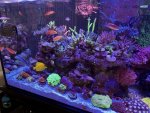 Final comments
It has been fun with reefing. Especially with SPS. Headaches when things are going wrong, but a big reward is to see it grow from a single small frag into a formation of a colony over time with its own coloration. I was almost done with SPS, after several months when the tank was up and running and thought I am so ready for those nice mariculture colonies. A big rookie mistake!!! I started with about 15-17 colonies mariculture SPS at one time. They were all gone in a matter of 2-3 weeks. A big lesson learned from a novice reefer without asking for help.

I am also a big fan of AI Hydra LED. My reef tank has been light up with, AI Hydra, to Hydra 52, to Radion G4 Pro for about 6-8 months, then back to Hydra 52HD, and now Hydra 64HD.

Over the course of reefing time, I have run into many good and cool reefers on this very SCR forum. I have made many cool friends and become good reefer buddies.

Thank you SCR Admin for nominated me as May-2020 featured reef aquarium!

Happy reefing and happy spending!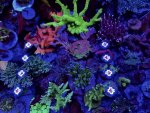 Please continue to support this featured reef by leaving a comment below.