Premium Member
Supporter
2020 POTM
Joined

Jun 11, 2013
Messages

4,301
Likes

871
Points

83
Location
I've had a few planted nano tanks made by Ultum. I love the look and function of the 40 degree mitered edges with clear silicon. It looks clean and there is hardly any silicon at the seam inside to attract algae or catch with a scraper.
This tank will eventually be my downsize from my current 180g. I want something more manageable and easier to maintain and aesthetically cleaner, something that fits in with the rest of the living room.
Tank dimensions are 48x24x15T. Stand is 50x28x38T.
The goal is still sps dominant but some encusting lps and a nem island will be in there for sure. I'm leaning towards a dual closed loop system if I can figure out a way to do it cleanly.
Lighting will be radions, flow will hopefully be either s2 or m2 vectras. Sump will be a bashsea smart sump. Keeping my calcium reactor and plan to make a clean electrical cabinet. If room is left I'm going to plumb in a small frag tank under the hood.
Today I got a few hours and started to assemble the stand. I used rocket engineers design off RC. So far it's nice and solid and I'll have plenty of room to play with below.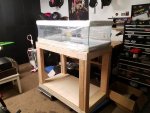 I plan to reuse the portion of my scape as the main rock