Joined

Oct 2, 2007
Messages

253
Likes

204
Points

3
Location
A little background, I started reefing back in 2000, and it was a lot of fun, meeting people, frag swaps, and basically trying to keep things alive. Over the years, I had to keep downsizing as my time and energy keeps shrinking. After the 2nd kid was born, I was down to a 6 gallon nano, but eventually got out of hobby for awhile (years) to focus on my kids and work. My oldest is 11 years old, and 2nd kid is now 8 years old! Finally settled down in OC, and after my oldest showed interest in fishes last year, I wanted to get back into reefing. Now I get to have my dream build. Only caveat is my wife said it needs to look nice and clean clean.
Tank and Stand
CDA 72"L x 30"D x 27"H. My dream dimension. (It's an used tank, but new to me.) 😁
1.5" External Overflow.
3-side 0.5" Starfire glass.
36" tall stand, made of steel with wood wrap.
Lighting
3x ATI Straton
DIY T-Slot Mount (Hung from ceiling)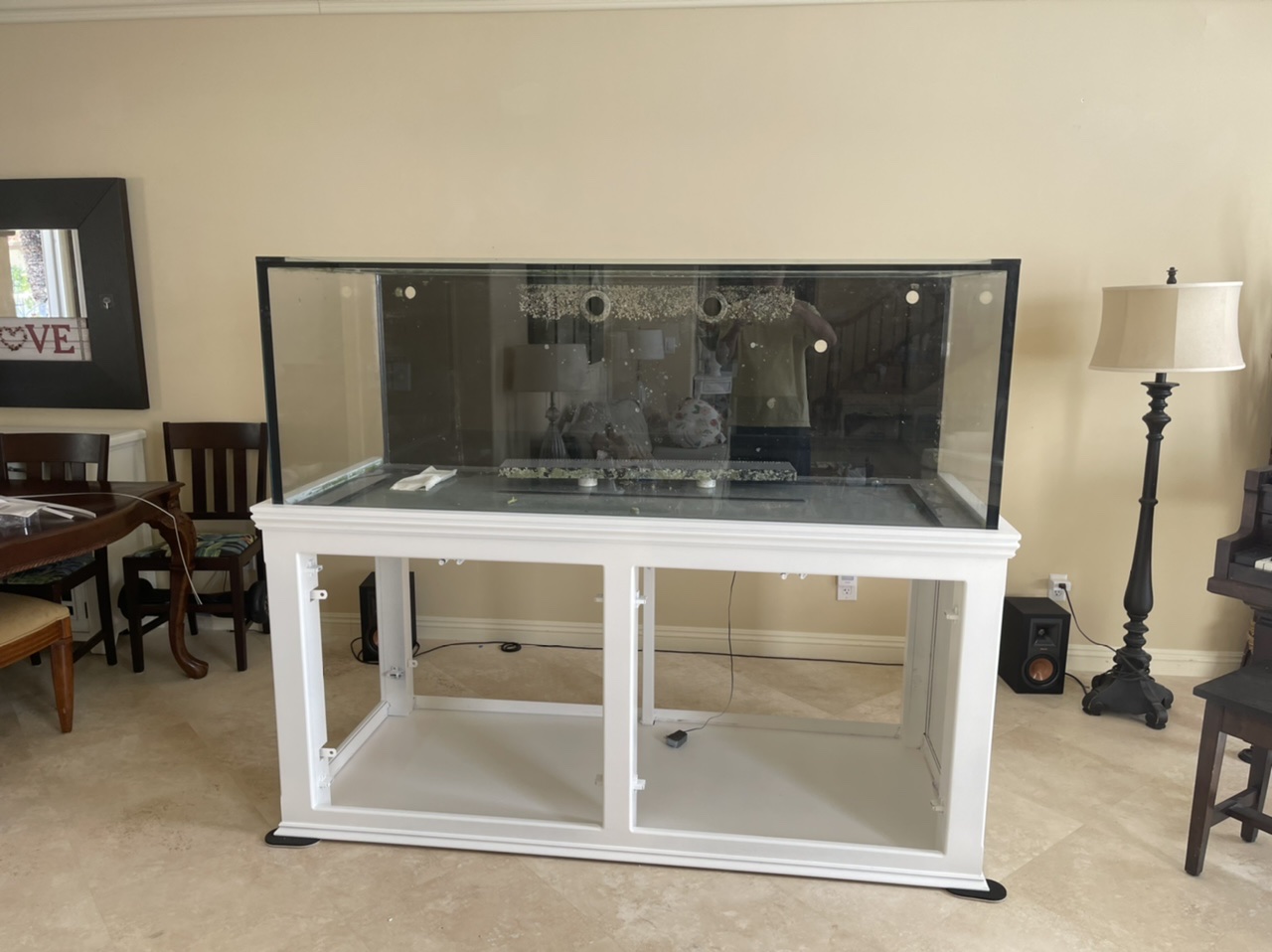 Equipment List (Have):
Sump (Have) - AA PVC/acrylic sump 48" long but needs TLC.
Skimmer (Have) - Used Regal 300SS, but needs major maintenance. I also have a BK DC 200, but I may sell this later.
Return pump 1 for DT (Have) - Used Ecotech L1 pump, but needs major maintenance.
Heater (Have) - Two 300W heaters along with a controller.
ATO (Have) - Tunze Osmolator from my old nano.
AWC (Have) - Used APEX DOS. Not sure how to use it yet.
Controller (Have) - APEX Neptune. Not sure how to use this. Will need advice.
Chiller (Have) - Used 1/4 hp Oceanic
Equipment List (Need):
Return pump 2 for manifold (Need) - Thinking of using a smaller DC pump like a Vario. Mainly to feed the chiller/UV or GFO.
Power heads (Need) - I have 1 older MP40QD, but will probably need a few more.
Dosers (Need) - I need 2 dosers for 8 channels. Thinking of 2 GHL dosers or something reliable.
UV (Need) - 90w Lifegard UV. Back ordered until July.
Goal of tank
SPS dominant
Run no socks
Minimal water changes
Alcohol-based Carbon Dosing
Lots of fish and snails
Target higher nutrients
Sand bed
Last edited: