WATCHGUY123 - MARK'S AMAZING LPS/SPS DOMINANTED 180 GALLON BOW FRONT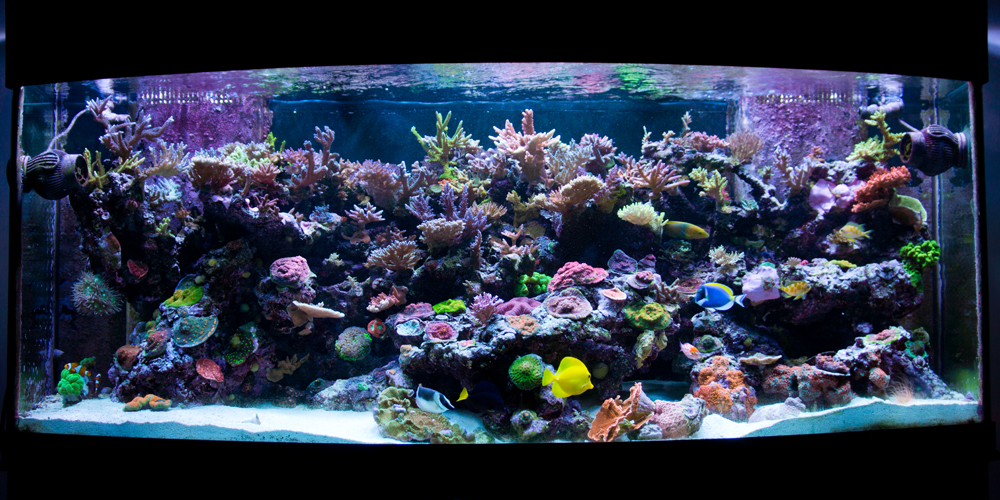 INTRODUCTION
Thank you SOCALIREEFS for spotlighting my tank. I have gained much by this forum. I have met some great reef buddies, learned a lot of useful reefing information (and just a little non-useful information), shared many pictures, and found some great corals and equipment through the various sponsors and sale threads.
I very well may be the oldest reef enthusiast around, or it sure seems that way. But being a grey haired reef hobbyist is still a lot of fun. I thoroughly enjoy the hobby. There is nothing like having an ocean in a glass box in your home. The fish as well as the coral are the colors of the rainbow. When you walk into the room with the tank, the fish literally become excited and begin to swim really actively—I realize it is not about me but about being fed, nonetheless, I like that. The challenges are endless with this hobby and so are the chores but at least the chores are simple and after a while the challenges seem less daunting.
I have enjoyed this hobby ever since my daughter was thirteen. She is now twenty nine She wanted a saltwater tank and after asking and asking, her mother and I relented. Wow, that was not our best parental decision. With the money I have spent on saltwater related stuff, I probably could have retired by now. So after two weeks or so of being diligent, my daughter let me take over the tank—like was there any doubt that was going to happen. I kept that lousy tank for umpteen years and it was all wrong for every technical reason there is, too tall, not deep enough, wrong filter, wrong , wrong, wrong . I loved it and hated it. I was finally going to get rid of it about 5 years ago when I discovered Craig's list for the first time. Don't know exactly what I was thinking, but somehow looked up aquariums and found this 180 bowfront with a bunch of equipment for sale and that is the genesis of my rejuvenation and most of my success with saltwater fish and coral. No matter what anyone says, size does make a difference.
System Summary
Display Tank
180 Gallon Glass Bowfront by Oceanic 72x24x18-24 (it bows)
Two overflows along back
Bottom drilled
Stand
Oceanic really cool black fake wood cabinet with two front doors
Canopy matching black but plastic yet easily removable
I lined the interior with 4 millimeter plastic but should have done a better job
Sump
30 gallon acrylic, very cool three chamber sump with one filter sock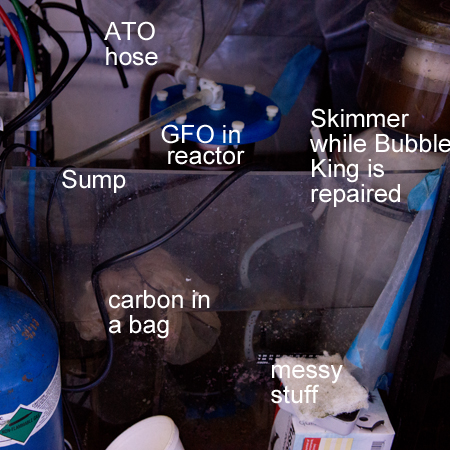 Refugium
20 gallon acrylic loaded with chaeto and lit by reefbreeders led fuge light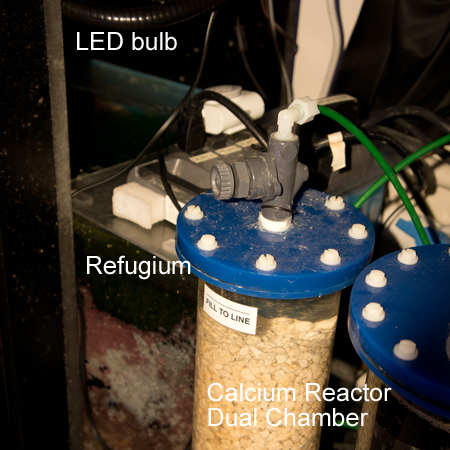 Protein Skimmer
Bubble King 200 mini in sump (but if you can believe it, the darn red dragon pump passed away this week minus the warranty) so I am using a GSM as an emergency skimmer for the next couple of weeks until my new red dragon ridiculously expensive pump arrives) But, still gotta love Bubble King
Carbon/phosphate filtration
Rowaphos in a Nextreef reactor. I run it for about two months. I put a small amount of carbon in a bag and leave it for about a month or two. I understand carbon a little but not sure how to tell if it really does anything. I use it so I don't get those funny looks from other reef guys.
Drains and returns
I just replumbed my tank some months ago. I used two inch piping that went into 1 inch returns. There are a lot of pipes and returns but it all seems to be working and with a lot of that blue glue, no leaks yet. I like plumbers, but if they can do this stuff, really, how hard or complicated can it be. So, still keeping my fingers crossed. What's the worse that could happen?
Return Pump
I switched to a reeflo dart/snapper hybrid pump which was part of the replumbing process. When I spoke to reeflo in advance of this project, they asked me to measure the length of pipe, diameter of pipes, height of water and then said this was the incorrect pump because of too much head pressure. Just like the plumbing, what do they really know so I went ahead anyway. That darn thing pumps like nobodies business. I strongly recommend their pumps, less so on their advice.
Water Circulation
I have used two Tunze 6105's Turbelle Streeam and and the Tunze 7095 controller but recently decided to try the Jebao WP40's and I really like them. I find between the reeflo return pump and the these two powerheads that I have significant water movement throughout the tank.
Lighting
Just switched to new for me but otherwise gently used Geissman light fixture. It is 72 inch with three x 250 watt 20 k Radium single ended bulbs and 4 xT5 80 watt bulbs (three blue plus and one actinic plus). Got it on a sale thread on Socalireefs.com, thank you Jose Casas.
Calcium/alkalinity/magnesium dosing
I use s Pro-Cal Calcium reactor by Marine Technical Concepts and love it. I change out my CO2 tank about every six months. It does not keep up with my magnesium, so I add loads and loads of Brightwell Magnesion powder. I have toyed with getting a doser for magnesium but as it is now, when my chiller turns on, the lights in the house flicker. Maybe that is a sign that I have enough electrical stuff hooked up to the tank as it is.
Auto top off
Tunze osmolator in a 25 gallon reservoir built by John at Advanced Acrylics. Another great connection through Socalireef.com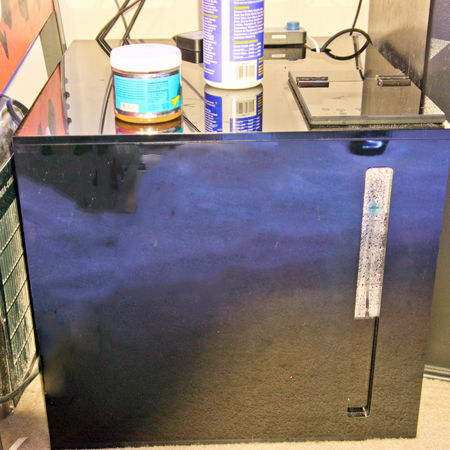 RO/DI
Well since the lights in my house already flicker and my cable box turns off when my metal halides turn on, I elected not to install a water purifier. I drive to one of two LFS's for their RO/DI water, and maybe it is or is not tap water from them. It seems to work out okay for me. Hey, all those LFS store guys are consummate professionals and I am confident that they watch the TDS carefully and change out their membranes routinely. Those guys are well paid and take pride in their craft.
Heating/chilling
I live in the San Fernando Valley, that says all I need to about what I use for heating. My original Craig's list tank purchase included two chillers, an Arctica (JBJ) ¼ horsepower chiller which is my main chiller and then a Coralife ½ horsepower aqua-chiller in series or parallel (I get series and parallel confused, so I use the one that makes more sense). I previously used the Coralife as my main chiller but it sounds like a beer refrigerator in the grocery store that might be going bad and the Arctica is silent and does an excellent job.
System Control
I think Neptune Apex system is the absolute best controller available to the hobbyist. I have wanted one for years and still do. I use a lot of power strips, a few timers and I keep a sharp eye out. Planning on purchasing soon though, I am tired of holding my breath so that nothing bad happens unexpectedly. Equipment misfire or failure is an impeding disaster so I am moving forward on this project.
Water parameters
Temp: 77.5-79.5
pH: no idea
Alkalinity: 8.5 hana checker
NO3: barely any (virtually zero)
Ca: 400 hanna checker and LFS double check
PO4: too high and embarrassed to report but its .05 (I might have fudged that response a little—but I just got back from a two week vacation and you know what happens when you are gone)
Magnesium: chronically low but have been adding pounds of Magnesion over the last few months and hoping to reach 1400
Nitrites and Ammonia: have not tested these in years, not advocating that just saying.
Lighting
Yes
Ok, ok, the T5's come on at 11:00 am and turn off at 10:00pm
Metal halides turn on at 3:00 pm and turn off at 9:00 pm
This is a new lighting schedule for me since I purchased the Geissman light fixture. The reflectors on this are incredible and my tank is super bright.
Filtration and Water Quality
I have experimented with various systems, carbon dosing via vodka, vinegar and biopellets. It did not work out for me, I crashed. I know that carbon dosing and zeovit all work but just not for me so far.
As you may have guessed, I am perhaps lazier than most. Don't get me wrong even a lazy reefer has to work hard to be successful. My goal is the less work, the better.
I utilize the calcium reactor to maintain alkalinity and calcium levels. My bias is that if you can maintain stable alkalinity, then most everything else will be stable as well. Not quite a rule, but almost.
I like refugiums because I think they further add diversity to our systems. Lots of pods and critters, and chaeto is an excellent means of reducing/eliminating nitrates. Not an advocate of Caulerpa, it is a danger to our ecosystem in California, its not necessary and chaeto works great. I run my refugium on the reverse lighting schedule of my display tank.
Phosphates requires good husbandry, water changes and appropriate fish feeding. I like fat fish so as a result I use GFO in a reactor.
I complete ten gallon water changes weekly because that is all my back can handle. Wasn't smart enough when I set this tank up, to have an automated water change system. I do use an ATO to keep salinity stable and I can not imagine working without one.
I have a deep sand bed in the display, bare bottom of course in the sump and mud in the sump. Mud in the sump is probably a waste at best and perhaps worse in the long run, I really do not know. Put it in when I set up my tank and left it alone ever since. So far so good, until it is no good. Can not even imagine trying to clean the mud out of the refugium without kicking up the mother of all dust storms. Sticking my head in the sand (or mud) on this one.
Speaking of other things I wish I could do over. Rockscape. I love islands but when I set this up, islands were not on my horizon. I simply wanted a gazillion coral and so I have a rock wall. Love all the real estate to place my corals but miss the beauty of island rockscapes. Oh, well.
Livestock
Purple Tang
Powder Blue Tang
Yellow Tang
Pacific Blue Tang
Banana Wrasse
Exquisite Coris Wrasse
Yellow Coris wrasse (pair)
Blue Star Wrasse
Chaoti wrasse
Potter's wrasse
Radiant wrasse
Anampses Feminus wrasse
Grey headed wrasse
Borbonius Anthias (pair)
Occelaris Clown Fish
Magnificent Fox Face
Livestock: Other invertebrates
Scarlet Red hermit crabs
Blue legged hermit crabs
Nassarius snails
Cerith Snails
Turbo Snails
Trochus Snails
Serpent starfish
Cleaner shrimp
Rose Bubble tip anemone
All of the above are diminishing slowly due to my very hungry and aggressive wrasses—banana wrasse in particular.
Tank Inhabitants—Corals
Lots and lots of SPS. I also have chalices, favias, blastomussa and other cool looking lps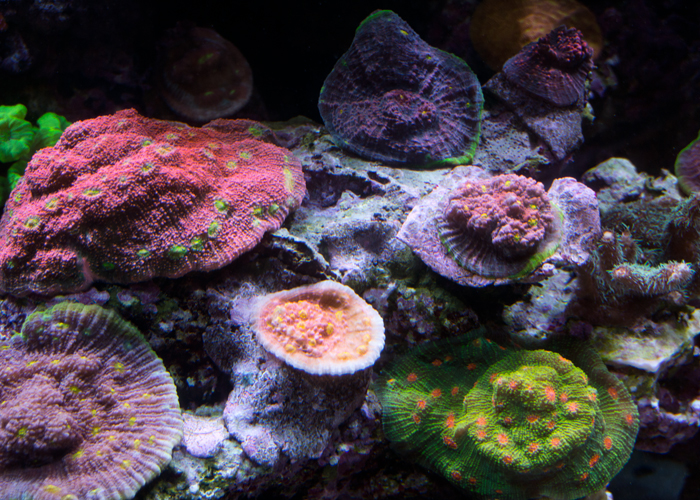 Fish and Coral Feeding
I feed on average once a day. I use Nutralife Spectrum pellets and Spirulina Flakes. Once in a while a frozen treat of mysis and or tube worms. Corals get whathever fish poo they can find
Progression shots
September 2011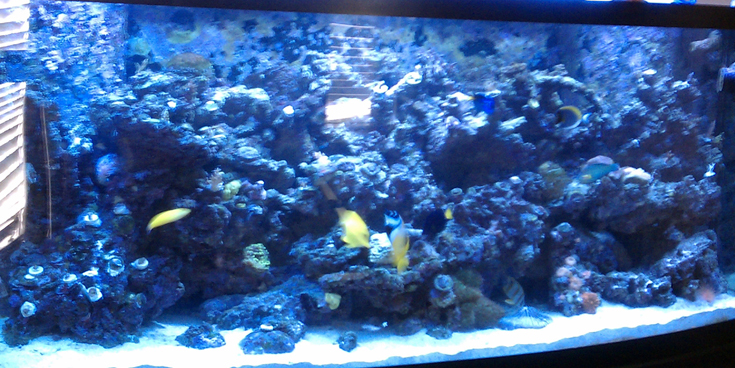 Unknown month 2012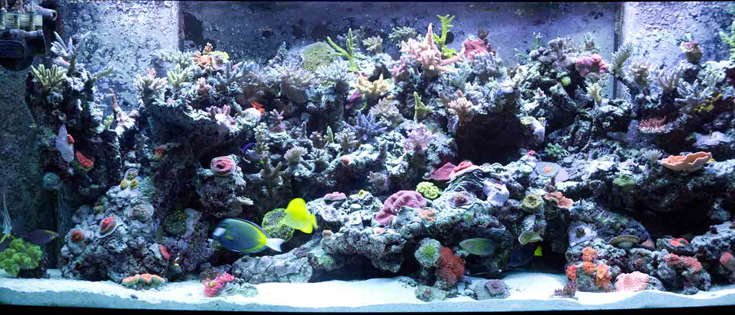 January 2013

Conclusion
I am having so much fun with this hobby. I bought a grown up camera in October of last year and have been enjoying photographing the tank. Perhaps taking pictures of my tank may be the most fun associated with it. Although spending relaxing time just staring at the tank is one of my most pleasant pastimes. I wish I could share some great secrets or keys to success but I have none of those. Patience, go slow is perhaps all I really have to proffer. I have been taking care of one tank or another for many years, and I finally got it right in the last few years. All I really do are the basic, fundamental things we all know. I am very delighted that my tank is finally happy.
I would like to thank some of the wonderful sponsors on Socalireefs, , Coral Gazers, Bulk Reef Supply, Chance of coral, Fantastic Frags, Marine Depot, Reef Breeders, Reef Raft USA, Premium Aquatics, Seaside Tropical, SPS Coral Store, and So Cal Corals. You may not know it but I have purchased something from each and everyone of you. I apologize if I left any other sponsors out who I have patronized and not mentioned.
Thank you to my fellow reefers for your help, humor, information and misinformation, I have relished it all. I especially want to thank the various moderators and characters who make things so very interesting with their constant input and chatter. I very much appreciate the academic formality of the forum as well as the concern and respect given to all minority groups. You truly are a commendable group, thank you.
Congratulations to RedMed. Wow, you have been the featured tank for almost a year now. That is truly an outstanding accomplishment. Most significantly, your tank is incredibly beautiful and I admire and compliment you for that.
Finally, thank you Socalireefs. I am flattered, delighted and humbled. As long as nobody minds too much, I will keeping posting more pictures and interjecting a thought or two along the way.